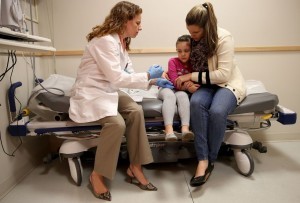 Measles is once again a health concern in the United States with more than 100 people diagnosed since an outbreak began at California's Disneyland. Health experts and President Obama suggest that Americans rush to get themselves and their children vaccinated, emphasizing the importance of the overall vaccination program. Others, including Governor Chris Christie and Senator Rand Paul, indicate they believe that there should be some degree of choice in a person's decision whether to choose vaccination for themselves or their children.
Recently, a rise in measles has been reported that is linked to exposure at Disneyland and the unvaccinated. What are we sensibly to do with this? Some have taken to the internet and have gotten super angry and/or afraid! What about you, how are you reacting to this? Are you angry?

This isn't an article to discuss the science of vaccines, and it is not meant to defend one position or another. Its purpose is to point us towards the real context in the debate about vaccines. When things of this nature reach the main stream media, first it is always a good idea to inquisitively and discerningly question the narrative being peddled around.

– Why the focus on vaccines now, at this time?

– Is there another agenda that the White House or the pharmaceutical companies have that is not being discussed in the main stream media?

– Is this really just about …
Although large amounts of vitamin A can be toxic, for cases of measles, Dr. Brownstein says some experts recommend a one-time dose of 100,000 IU of vitamin A orally at the time of diagnosis for infants younger than 12 months of age, and 200,000 IU for those older.
Should you vaccinate against measles? It's a personal decision, says Dr. Brownstein. "No parent wants to harm their child by not vaccinating. We should all respect individual choice. That is what our country was founded on. I would never criticize a parent for vaccinating nor would I be critical of one not vaccinating. It is tough for parents out there — we don't need to make it worse for them."
Please Read this Article at NaturalBlaze.com