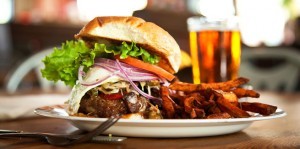 Carl's Jr. is set to release an All-Natural Burger said to feature an all-natural patty made with free-range beef. Apparently, the burger doesn't contain any added hormones, antibiotics or steroids, which is pretty big news for a fast food chain.
Because a beef patty alone doesn't make a burger, the All-Natural Burger is topped off with red onions, vine-ripened tomatoes, lettuce, pickles, ketchup, mustard and mayo and a slice of natural cheddar cheese. It's served between a freshly-baked bun.
For years, Carl's Jr. has stuck to a tried-and-tested method to market its hamburgers:Enlist blond women (in one case, for equality, a brown-haired male) to peddle them—in slow motion—on TV. But it seems that sex is no longer enough to sell the American fast-food staple.

On Dec. 17, the California-based chain will roll out the All-Natural Burger at all of its 1,150 stores, most of them on the West Coast. It contains no hormones, no antibiotics, no steroids—and it's sourced from free-range, grass-fed cows for the affordable price of $4.69 for a single patty and $6.99 for a double. Carl's Jr. will be the first major fast-food chain to feature a "natural" burger on its menu, according to USA Today.

CKE Restaurants, the chain's parent company, made the decision after the burgers proved popular at a trial run in Los Angeles last summer. Hardee's, Carl's Jr.'s sister brand, …
Other trends in the top five food trends include more locally grown produce, foods that meet environmental sustainability standards, healthy kid's meals, and more natural ingredients and minimally processed foods. Entrees will feature more grass-fed beef items, specifically new and innovative cuts that allow for better overall carcass utilization. With the continued rise in retail beef prices restaurants are looking for ways to offer diners more affordable beef items. This will include "seamed out" cuts from the chuck, sirloin, round, and the thin meats rather than always featuring middle meat items.
Other items that will be prominently featured in 2015 include artisan bacon, artisan cheeses, non-wheat flour, and artisan pickles. House-cured meats and innovative charcuterie, along with ethnic-inspired meat items, will dominate the appetizer menu.
Please Read this Article at NaturalBlaze.com