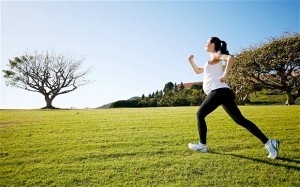 Women with healthy eating and exercise patterns before pregnancy enjoy reduced health risks for both themselves and their babies during pregnancy. By following a balanced diet and participating in regular exercise, you should work towards maintaining a Body Mass Index (BMI) below 30, and ideally between 20 and 25. Women who have BMIs over 30 when they conceive are at increased risk for complications during pregnancy. Eating a balanced diet before you become pregnant will help your body meet the nutritional needs of your developing baby when you become pregnant. Follow Canada's Food Guide — this promotes eating a variety of healthy foods and has tips and advice for women at all stages of life.
It might not be obvious on the scales, but healthy eating and increased physical activity from walking during pregnancy is directly associated with a range of improved outcomes at birth, according to researchers from the University of Adelaide.

"While it might have been expected that healthier eating and increased physical activity during pregnancy would be associated with differences in weight gain, our findings highlight that weight gain in pregnancy is not an ideal measure of pregnancy health," says study leader Professor Jodie Dodd, from the University of Adelaide's Robinson Research Institute and the Women's and Children's Hospital.

"Importantly, however, these changes in diet and physical activity were directly associated with significant improvements in outcomes for babies.

"Women who received dietary and lifestyle advice increased the number of servings they consumed per day of fruits and vegetables, while reducing the percentage of energy in their diet derived from saturated fats.

"Women were also …
If you were active for at least six months before your pregnancy, ask your health-care professional about whether you may continue your sports or workouts safely. As you move further into your pregnancy and your body changes, you may feel mild aches and pains due to looser joints and shifting of your body weight. You may need to revise your exercise program every trimester to reduce the risk of falls and limit high-impact activities.
If you have not been active before your pregnancy, start low and go slow. Try regular brisk walking, swimming, strength training for pregnant women, or other activities that will strengthen your heart and lungs and tone your muscles. It is recommended that you wait until the second trimester to start your program.
Please Read this Article at NaturalBlaze.com