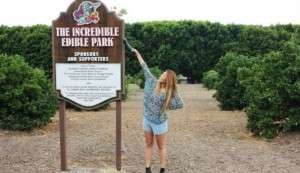 At this very moment, hunger is effecting millions of Americans here in the United States. Utilizing past statistics from the Food and Safety Inspection Service (F.S.I.S.), an agency of the United States Department of Agriculture (U.S.D.A.), 14.9 percent of American households were food insecure back in 2011, with 5.7 percent suffering from very low food security. Most of the time, the reason why households are unable to feed themselves is because of insufficient funds.
Despite the debilitating news pertaining to U.S. hunger, there are many individuals, groups, and organizations doing their part to combat it. However, Second Harvest Food Bank is in the news as of late because of their contribution in South California: a park that feeds up to 200,000 people each month.
The Incredible Edible Park is a 7.5-acre public park that grows enough food, vegetables and fruits to feed 200,000 needy persons a year. Once a weeded, unused piece of land owned by the electric company is now a productive community garden. This auspicious endeavor was started as a collaborative effort from the city of Irvine to help feed those in need.

Perhaps, we can take some pointers from this video and look into ways of encouraging our own city or town to devote a park or two to growing food for the community. It would help others learn this valuable trade, as well as teach others about alternative gardening techniques. For instance, the irrigation system this parcel of land uses is based on a grey water system. Therefore, the city is not wasting drinking water, but using water that would otherwise be unused.
Growing Your Greens also reported on The Incredible Edible Park on location through a video on their YouTube channel. John Kohler was on location back in 2012 in which he takes viewers to different parts of The Incredible Edible Park. Along the way, John provides gardening and organic eating facts many people may not know about.
Please Read this Article at NaturalBlaze.com