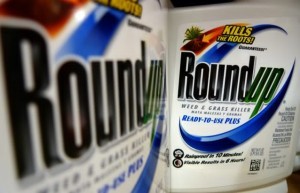 Monsanto makes seeds for soy, corn, canola, cotton, alfalfa and sugar beets that are genetically engineered to be tolerant to Roundup. The seeds are marketed in 120 countries. Throughout the world, Roundup is sprayed heavily as a weed killer without fear of damaging the cash crops, which have been engineered to survive the herbicide's effects.
Roundup seemed, at first, to be the perfect herbicide. It blocks the ESPS synthase enzyme, which prevents the synthesis of amino acids that plants need for growth. Since animals don't have this enzyme, it was initially hypothesized that they would be safe from Roundup's effects.
Unfortunately, Roundup has now been shown to affect much more than the EPSP synthase enzyme. The herbicide has been proven to cause birth defects in vertebrates, including in humans, and it may also be the cause of a fatal kidney disease epidemic.
It was "supposed" to be harmless to humans and animals—the perfect weed killer. Now a groundbreaking article just published in the journal Entropy points to Monsanto's Roundup herbicide, and more specifically its active ingredient glyphosate, as devastating—possibly "the most important factor in the development of multiple chronic diseases and conditions that have become prevalent in Westernized societies."

That's right. The herbicide sprayed on most of the world's genetically engineered crops—and which gets soaked into the food portion—is now linked to "autism … gastrointestinal issues such as inflammatory bowel disease, chronic diarrhea, colitis and Crohn's disease, obesity, cardiovascular disease, depression, cancer, cachexia, Alzheimer's disease, Parkinson's disease, multiple sclerosis, and ALS, among others."
The research shows that Roundup is linked to a host of cancers in those living in the heavily sprayed regions of Latin America. It has also been linked to B cell lymphoma, and to brain cancer.
While the epidemiological studies show close correlation, they cannot prove causality. The gold standard for scientific proof is a randomized controlled trial, which would be unethical in this instance. You cannot ethically expose humans to an herbicide. Scientists therefore use a variety of experimental models to assess cancer risk.
Please Read this Article at NaturalBlaze.com