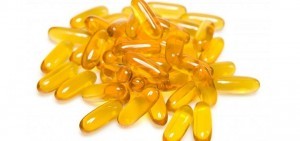 Taking omega-3 fatty acids appeared to lower inflammation and guard against further declines in heart function among recent heart attack survivors already receivingoptimal standard care, according to results from a randomized, controlled trial.
High doses of omega-3 fatty acids may protect against further damage in heart attack patients, a preliminary study suggests.

The research included 374 heart attack survivors who received standard treatment and took either a 4-gram prescription-only dose of omega-3 fatty acids each day or a placebo. The researchers said that people probably couldn't get that level of omega-3 fatty acids from diet alone. To illustrate how large a dose that is, the researchers noted that 4 grams of omega-3 fatty acids is the equivalent of eating 8 ounces of salmon.

Using MRIs, the patients' hearts were scanned two weeks, four weeks and six months after their heart attack.

Compared to those taking the placebo, patients taking the omega-3 capsules had lower levels of inflammation and were 39 percent less likely to show deterioration of heart function. There was also less thickening or scarring of the areas of the heart that were not directly damaged during the heart attack. This thickening, also known as fibrosis, often develops when the surviving heart muscle works harder to compensate for the damaged tissue, according to the researchers.

Patients with a 5 percent rise in the amount of omega-3 fatty acids in their blood seemed most likely to benefit from the supplements.

The study is to be presented March 16 at the annual meeting of the American College of Cardiology (ACC) in San Diego. Research presented at meetings should be considered preliminary until published in a peer-reviewed journal.

"Giving a high dose of fish oil [omega-3 fatty acids] soon after a heart attack appears to improve cardiac structure and heart functioning above and beyond the standard of care," senior study author said Dr. Raymond Kwong in an ACC news release. He is director of cardiac magnetic resonance imaging at Brigham and Women's Hospital in Boston.

"Because this is a unique group of patients with remarkably high adherence to [guideline-directed] treatments for acute [heart attack] already, we feel fairly confident that the benefits from the supplement are additive. The implications of this study could be fairly large," Kwong said.

Previous research has shown that omega-3 fatty acids may lower the risk of heart rhythm problems and death from heart attack.

"Fish oil [omega-3 fatty acids] may have anti-inflammatory effects and also promote better cardiac healing," Kwong said. "This is important because other anti-inflammatory agents, including steroids and NSAIDs, have failed to make a difference after."

About 735,000 Americans suffer a heart attack each year, according to the U.S. Centers for Disease Control and Prevention.
Fatty fish such as salmon, tuna, trout and sardines contain the most omega-3 fatty acids. Fatty acids are a key component of cell membranes and they help with cell signaling, proper immune function and may also improve cognitive functioning. This study is limited in that it did not investigate the association between omega-3 fatty acids and cardiac events after heart attack; assessing this relationship would require a large group of patients over many years. It also did not evaluate this treatment immediately after having a heart attack.
The study was funded by the National Institutes of Health. GlaxoSmithKline provided the medication (Lovaza) for the study, but the authors report the pharmaceutical company was not involved with the study or its analysis. Unlike supplements available without a prescription, Lovaza is regulated by the U.S. Food and Drug Administration and is approved to treat high triglycerides.
Please Read this Article at NaturalBlaze.com