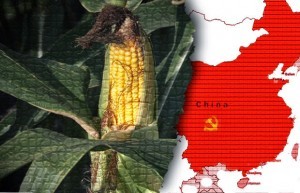 A manufacturer of sweeteners and starches made from corn will not buy Syngenta's new GM corn MIR 162 due to China's rejection of the crop China has turned away 1.25 million tonnes of U.S. corn and DDGs this year after discovering the presence of an unapproved GMO strain known as MIR 162, developed by Syngenta. Ingredion Inc, manufacturer of sweeteners and starches made from corn, will not buy a new variety of genetically modified corn developed by Syngenta AG, according to a notice on the ingredients supplier's website on Wednesday. The Illinois-based manufacturer did not say why it will not accept the genetically modified Agrisure Duracade corn, which has been shunned by the world's biggest commodity traders because it is not approved by major importers.
(Beyond Pesticides, September 18, 2014) After a reported $90 million loss from rejected shipments of genetically engineered (GE) corn seeds that are not approved in China, the U.S. grain company Cargill Inc. sued the biotech giant Syngenta AG. According to Cargill, since mid-November 2013, China has rejected imports of U.S. corn due to the presence of Syngenta's MIR 162 trait because of its lack of approval for import, virtually halting U.S. corn trade with China. The lawsuit, filed Friday in Louisiana, will ultimately decide whether responsibility for the marketplace risks and economic damage of introducing GE crops in international trade should be placed on the seed companies that develop unapproved GE traits, or the merchants who sell contaminated grain. "Unlike other seed companies, Syngenta has not practiced responsible stewardship by broadly commercializing a new product before receiving approval from a key export market like China," said Mark …
The ban puts Ingredion in the company of major traders like Archer Daniels Midland Co and Bunge Ltd, which have said they will not handle Duracade corn because it is not approved by China or the European Union, both major importers. Ingredion's decision further limits the potential markets for farmers who planted Duracade.
Syngenta has teamed with grain merchant Gavilon, owned by Japanese trading house Marubeni Corp, to help farmers find approved markets for the GMO crop, which was cleared by U.S. authorities last year. Other buyers, including Mexico and Japan, have approved Duracade imports.
Please Read this Article at NaturalBlaze.com