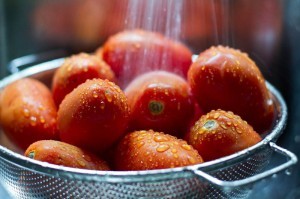 Did you know that tomatoes do not have to be a deep red color to be an outstanding source of lycopene? Lycopene is a carotenoid pigment that has long been associated with the deep red color of many tomatoes. A small preliminary study on healthy men and women has shown that the lycopene from orange- and tangerine-colored tomatoes may actually be better absorbed than the lycopene from red tomatoes. That's because the lycopene in deep red tomatoes is mostly trans-lycopene, and the lycopene in orange/tangerine tomatoes is mostly tetra-cis-lycopene. In a recent study, this tetra-cis form of lycopene turned out to be more efficiently absorbed by the study participants. While more research is needed in this area, we're encouraged to find that tomatoes may not have to be deep red in order for us to get great lycopene-related benefits.
Yes – 100 pounds, and more if you can get them. No other item of produce increases in nutrients when cooked and stored like tomatoes. Canning them is like loading your shelves with vitamins. These vitamins have the delicious bonus of providing tasty meals throughout the winter, when fresh fruits and veggies are expensive (and scarce for many of us if you prefer to consume foods grown close to home.) I got most of my tomatoes from local friends who had an over-abundance, so I didn't pay a lot for them. You can often find tomatoes by the bushel for $1-2 per pound at your local farmer's market. (Find a farm or market near you at Eat Local Grown.)

So here are your five reasons, as well as instructions and recipes for prepping and canning these vitamin-laden goodies.

Simple sauce with tomatoes, onions, and garlic
Tomato broth
Italian marinara
Salsa
Ketchup

If you purchased all of …
Tomatoes are the most widely homecanned product in the United States. They also are one of the most commonly spoiled home-canned products. The canning processes recommended in this fact sheet are the result of USDA research on safe home-canning procedures for tomatoes and tomato products.
Please Read this Article at NaturalBlaze.com