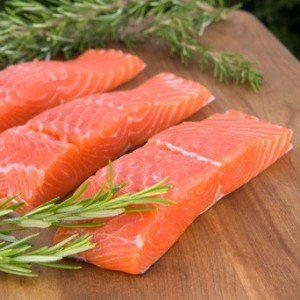 Salmon is a great food to experiment with when you are changing your diet from a weight-gaining plan to a weight loss plan. Salmon is high in fish oils that prevent heart disease and we think of it as a real treat, too. Even non-fish lovers will enjoy this tasty recipe.
Ideally, you would receive all the omega-3s you need from fish, but the vast majority of the world's fish supply is heavily contaminated with PCBs, mercury, agricultural toxins, and radioactive poisons. This is why I don't recommend getting omega-3s from fish. I do, however, have a few exceptions to this rule – one is wild-caught Alaskan salmon or sockeye salmon. Alaskan or sockeye salmon have very little risk of accumulating high amounts of toxins in their bodies because of their short life cycle, which is only about 3 years. The bioaccumulation of toxins also decreases because salmon don't feed on other already contaminated fish. Additionally, wild-caught sockeye salmon has an outstanding nutrition and a fresh, irresistible taste, which you can enjoy in this recipe:

Ingredients:

2 pounds wild Alaskan or sockeye salmon
2 Tbsp. extra virgin olive oil
1 Tbsp. paprika
1 Tbsp. Old Bay seasoning*
Freshly ground black pepper
Pinch of gray salt

Directions:

Preheat oven …

Whenever possible, purchase the salmon fillets, rather than the steaks that look like a horseshoe. Fillets seem to have no bones at all and the "skin side" is a natural protector for cooking on the grill and keeping the fillet in one piece.
Please Read this Article at Articles.Mercola.com