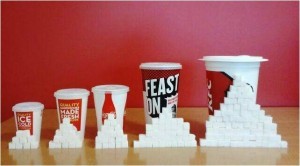 If you've been reading health magazines and websites for any length of time, you've read a litany of reasons why soda is bad for you. It's nothing but sugar water. It's devoid of any nutritional value. It leads to obesity and diabetes. But we've dug up nine other disturbing facts about what soda does to your body, whether it's the side effects of sucralose and other artificial sweeteners or ingredients that can lead to memory loss. Keep reading to find out all nine reasons you should kick soda to the curb.
Coke is the most valuable brand in history, and "Coca-Cola" is the world's second-most recognized word after "hello." However, the beverage itself is like a poison to the human metabolism. Coke is very acidic, it's only one point higher on the pH scale than battery acid. Consequently it can clean surfaces equivalent to and often better than many toxic household cleaners.

It's cheaper and easier to buy Coke in some third world countries than it is to access clean water.

People who consume soft drinks such as Coke have a 48% increase in heart attack and stroke risk, compared to people who did not drink the sodas at all or did not drink them every day. A study published in the journal Respirology reveals that soft drink consumption is also associated with lung and breathing disorders including asthma and chronic obstructive pulmonary disease (COPD).
We know, it's a lot to take in. And if you're a current soda drinker, don't freak out; kicking your soda habit now–or even just cutting back and indulging only once in a while—will still do your body good.