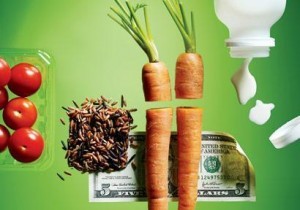 While most of us are aware of the benefits of organic food, it is sometimes a tough pill to swallow knowing that organic products often cost a lot more than conventional products. If you are on a tight budget, it can be very discouraging to see regular butter listed at $3 a pound, and then look and see that organic butter is $5 a pound. However, there are ways to save money on organic food. Here are just a few of those ways.
It goes without saying that virtually everyone would prefer to eat food grown without the use of synthetic pesticides, herbicides and other chemicals and unnatural techniques like genetic modification, but many of them face the same obstacle: higher prices.

Organic food was allowed to become a specialty item despite its status as the most traditional way of producing food, and now the associated higher prices have added another obstacle to those who wish to eat the way nature intended.

There is one buying strategy in particular that can help people save a boatload of money, however: buying in bulk.
That was the main finding of a 2012 study from Portland State University in partnership with the Bulk is Green Council (BIG), which found that consumers can save an average of 89 percent by shopping for their favorite organic foods in the bulk aisle.

According to the study, buying bulk foods over pre-packaged foods allows the customer to save money on delivery costs and packing material. Researchers compared organic foods bought in bulk such as nut butters, tea, grains, dried fruit and more with packaged organic foods for the purposes of the study.

When foods come in bulk, there's no need for fancy marketing slogans, mascots, sales pitches, expensive colored ink and more.

Buying organic foods in bulk also has the effect of protecting the environment, as less cardboard, plastic and other packaging materials end up being used. One particular finding of the study was that if Americans decide to switch to buying their coffee in bulk, a startling total of almost 240 million pounds in foil packaging would be saved. If Americans purchased all of their almonds in bulk for a year, a total of 72 million pounds of landfill waste would be saved, the study also noted.

"Our researchers worked diligently in the field to gather data and talk to consumers, and they conducted hours and hours of analyses," said Dr. Tom Gillpatrick, executive director of the Portland State University Food Industry Leadership Center. "Many claims have been made regarding the benefits of buying in bulk, but there have been few quantifiable statistics to support those claims. We're excited to be the first research team in the United States to substantiate that buying in bulk does offer tangible environmental and economical benefits."

While it's worth noting that the organization that conducted the study, The Bulk is Green Council, had its own stake in the results of the study, there's no doubt that buying in bulk is cheaper and more environmentally friendly.
These are just a few ways on how you can save money on organic food. It can be tough in today's economy to live a healthy lifestyle, but with a few tips and tricks, it can be possible.
Please Read this Article at NaturalBlaze.com