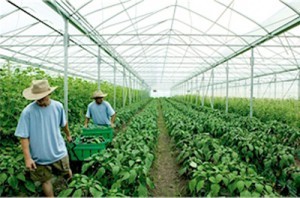 Tucked away in the southeastern part of America's Heartland (AKA Iowa), lies a small, 1-square mile, hamlet of just a little over 250 people.* The town is located in Jefferson County In total there are about 140 households, and 48 families. According to the last census, the racial demographics of the town breakdowns as follows: 95% White, 1.5% African American, and 1.5% Asian. The official language of this Midwestern town: Sanskrit.
The town is Maharishi Vedic City (MVC), and it's a community based around the principles of the Veda, ancient Sanskrit texts that are focused on balance and natural law. There are five-people who sit on a city council that serves as the presiding body of government. The sale of non-organic food is completely banned in the city limits. In fact, MVC operates a very successful organic farming operation and distributes to the Whole Foods chain. After the city banned the use of synthetic pesticides and fertilizers it became America's first all-organic city.
Imagine living in a city where all produce sold or served is guaranteed 100% organic by law, with zero crime rate and it's own Institute For Natural Medicine and Prevention. Would you believe this city does exist, and it is the heartland of north America?

Too much of America is now controlled by the vast agro-chemical industry, poisoning us and our environment withgenetically modified crops, fueled by corporate greed and manipulation. This has come with many well documented harmful effects on our health as well as the devastation of many species including bees, birds and butterflies.

However back in 2001 Marharishi Vedic City, just 60 miles south of Iowa was officially incorporated. The city was inspired by Maharishi Mahesh Yogi who who introduced the technique ofTranscendental Meditation (TM) more than 40 years ago and brought enlightenment to millions of people all over the world in a scientific, systematic manner. The name "Vedic" …
Community Supported Agriculture (CSA) programs are designed to benefit both the community and the local farmer. Without the middleman mark-up, the CSA model presents a win/win opportunity: Selling direct to customers, we earn more than we would get selling retail or wholesale and our customers receive, not only price value, but a freshness value not available at retail outlets…… grown under exacting standards in fertile organic soils, our produce is picked and packed within a day, then delivered fresh to our CSA members (i).
Construction has begun on an additional 100 acres of greenhouses, which will supply organic produce throughout the entire Midwest.

Maharishi Vedic City currently has a population of just under 1300, when residents of the Pandit Campus are included (home to almost 1,000 Vedic scholars) and is governed by several protecting statutes, including requirements that all buildings conform to strict guidelines in that they must face east, in the direction of the rising sun, adhering to the ancient Indian architectural style that is said to bring peace and harmony to one's surroundings enhancing health, happiness, enlightenment and consciousness. Each building also has a central 'quiet space' to encourage meditation, peace and harmony.

Quite possibly the healthiest city in America, it is home to Maharishi University of Management's Institute for Natural Medicine and Prevention — one of the top institutions for prevention and treatment of disease using the natural health care approach encouraged from the Vedic literature and teachings.

Many people first heard of transcendental meditation back in the 1960s, when the Beatles started following Maharishi Mahesh Yogi. The city features two huge domes, one for men and one for women, with residents gathering en masse to meditate together twice a day.

Meg and Erik Vigmostad moved here from St. Louis in 1982 saying,
We wanted to come to a meditating community…….we had two children at the time, one of them was an infant, and we felt like it was the best place to bring up our children.
Vigmostad acknowledged that the couple's families thought they were literally "crazy" for making such a move as they considered, as many unenlightened people do, transcendental meditation to be a weird craze.The family has gone to thrive and enjoy living and organic and healthy life in the city.
There are many other local attractions with tourism being an important part of the city's revenue. The Maharishi Vedic Observatory, a one and one-half acre open-air observatory of masonry sundials, is credited with being unique in the world for its ability to display, in just one compact carefully designed form, the whole structure of the universe along with all the movements of the sun, the planets, and the stars.

The City's website explains,
It is the only complete example existing in the world today of this timeless knowledge. Research reveals that these ancient observatories existed in every culture at one time. Today well known fragments of ancient observatories remain at Stonehenge in England, Maachupichu in Peru, and other locations in Europe, Central America, and Asia. At the Vedic Observatory in Maharishi Vedic City one can view the heavens as the ancients did.
In 2014 there was a large-scale protest involving 300-1000 Pandit meditators. The Pandits came over from India in 2007 as part of a program "to foster world peace through meditation." They came over on a religious visa, were paid $200 a month, of which they sent $150 back to their families each month. A popular Pandit was threatened with deportation and when the local sherriff arrived his car was damaged and resulted in an investigation into the compound conditions where the Pandits were kept segregated from the community.
In 2006, a reporter visiting from Los Angeles noted that the city "displays all the architectural characteristics of a new exurban development: gaudy, over sized construction that has no stylistic relation to its environment."
Please Read this Article at NaturalBlaze.com