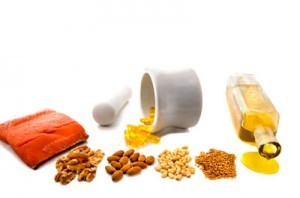 There is evidence that omega-3 fatty acids are useful in the prevention and treatment of heart disease. There is also some evidence that they might be important for cognitive function or useful as a treatment for depression.
The body can convert ALA into EPA and DHA. ALA is efficiently converted to EPA, but it may require large amounts of ALA to produce optimal amounts of DHA. A small amount of recent evidence has raised a concern that large amounts of ALA could be harmful to the eyes over the long term.
Omega 3 fatty acids are the equivalent of nutritional gold. That's because they are nature's anti-inflammatory nutrients and are used in most chemical functions in the body. While fatty fish is frequently considered the best source of this essential fatty acid, it is not the only source.

If you're looking for some plant-based sources of Omega 3s, be sure to check out the following 17 vegan food sources, not in any particular order due to portion size variation and variations in measuring different food types:

Flax Seeds– One ounce of flax seeds contains 6388mg of Omega 3 fatty acids.

Chia Seeds—One ounce of chia seeds contains 4915mg of Omega 3s.

Hemp Seeds– One ounce of hemp seeds provides 1100 of Omega 3s.

Spinach—One cup of cooked spinach has 352 mg of Omega 3s.

Winter Squash—One cup of cooked squash contains 338 mg of Omega 3s.

Cauliflower—One cup of cooked cauliflower contains 208 mg Omega 3s.

Blueberries—One cup of …
It is not only important to incorporate good sources of omega-3 and omega-6s in your diet, but also consume these fatty acids in the proper ratio. Omega-6 fatty acids compete with omega-3 fatty acids for use in the body, and therefore excessive intake of omega-6 fatty acids can inhibit omega-3s. Ideally, the ratio of omega-6 to omega-3 fatty acids should be between 1:1 and 4:1. Instead, most Americans consume these fatty acids at a ratio of omega-6:omega-3 between 10:1 and 25:1, and are consequently unable to reap the benefits of omega-3s. This imbalance is due to a reliance on processed foods and oils, which are now common in the Western diet. To combat this issue it is necessary to eat a low-fat diet with minimal processed foods and with naturally occurring omega-3 fatty acids. A lower omega-6:omega-3 ratio is desirable for reducing the risk of many chronic diseases.
Please Read this Article at NaturalBlaze.com