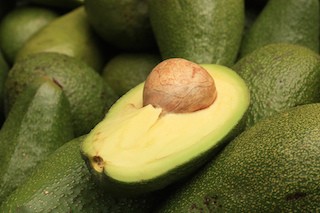 Some people, in their attempts to be health-conscious, avoid avocados due to the relatively high fat and calorie content of these fruits (138 calories and 14.1g fat in half a medium-sized avocado). Yet avocados are one of the best foods you can eat, packed with nutrients and heart-healthy compounds. Here are five great reasons to eat them regularly.
Avocados are a great source of lutein, a carotenoid that works as an antioxidant and helps protect against eye disease. They also contain the related carotenoids zeaxanthin, alpha-carotene and beta-carotene, as well as tocopherol (vitamin E).
But avocados aren't just a rich source of carotenoids by themselves—they also help you get more of these nutrients from other foods. Carotenoids are lipophilic (soluble in fat, not water), so eating carotenoid-packed foods like fruits and vegetables along with monounsaturated-fat-rich avocados helps your body absorb the carotenoids. An easy way to do this is to add sliced avocado to a mixed salad.
Avocados are an excellent source of heart-healthy monounsaturated fat that is easily burned for energy, while being low in fructose. Not surprisingly, improved weight management is one of the health benefits of avocado consumption, and its high-fat, low-sugar content is likely a key factor contributing to this effect.

Research has also found that avocados are helpful for regulating your blood sugar levels. This is an important benefit for most people, considering that one in four American are either diabetic or pre-diabetic.

According to the California Avocado Commission, a medium Hass avocado contains about 22.5 grams of fat, two-thirds of which is monounsaturated. They also provide close to 20 essential health-boosting nutrients, including:

Fiber
Vitamin E
B-vitamins
Folic acid
Potassium (more than twice the amount found in a banana), which can help balance your vitally important potassium to sodium ratio

Due to its beneficial raw fat content, avocado enables your body to more efficiently absorb fat-soluble nutrients (such as …

Avocados are almost as good as blueberries in promoting brain health, says Pratt. "I don't think the avocado gets its due," agrees Kulze. True, the avocado is a fatty fruit, but, says Kulze, it's a monounsaturated fat, which contributes to healthy blood flow. "And healthy blood flow means a healthy brain," she says. Avocados also lower blood pressure, says Pratt, and as hypertension is a risk factor for the decline in cognitive abilities, a lower blood pressure should promote brain health. Avocados are high in calories, however, so Kulze suggests adding just 1/4 to 1/2 of an avocado to one daily meal as a side dish.
Please Read this Article at Articles.Mercola.com