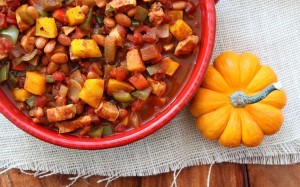 Full of seasonal pumpkin, this is the perfect chili for cool fall evenings. It's slightly spicy, yet smooth and savory. The puree and orange peppers add beautiful color and are a great way to sneak in more vegetables.
Why add pumpkin to your chili?
Pumpkins are more than just for Halloween decorations. They are also edible, delicious and nutritious. When fresh pumpkin is not available, canned pumpkin can be a convenient alternative, saving lots of preparation time. When you see canned pumpkin puree in the grocery store, think beyond the traditional pie and explore more ways of adding this healthful gourd into your diet.
If you live in the US, you may regard pumpkins primarily as an ornamental squash, and use them to decorate your home for fall or carve into a jack-o-lantern on Halloween. However, the vast majority of pumpkins are grown not for ornamental use but for eating.

Most pumpkin that is processed is made into canned pumpkin and canned pumpkin pie mix, but you can also purchase fresh "pie" pumpkins and puree the flesh yourself. There is, of course, far more to do with pumpkin than make pumpkin pie.

In fact, recent food trends show that the most popular pumpkin dish – by a landslide – is actually pumpkin curry (coming in at 54 percent of orders compared to just 3 percent for pumpkin pie).

If you're looking to try something new for lunch or dinner, and you want to add in the seasonal (and nutrient-rich) flavor of pumpkin, try the warming pumpkin chili …

This hearty chili also contains extra heart-healthy fiber from the pumpkin, which aids in digestion and helps keep you feeling fuller longer, making it great for weight management. Pumpkin really is a nutrition powerhouse — something to remember when Halloween has come and gone.
Please Read this Article at Articles.Mercola.com