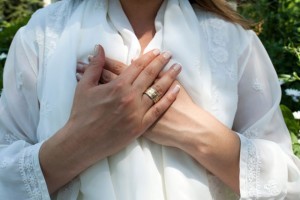 A new study by researchers at the University of Waterloo has touched on a somewhat taboo question: 'What if women were to accept themselves with deep self-compassion—flaws and all?' In other words, what if we looked upon ourselves with kindness, compassion and forgiveness as we would a loved one or a dear friend? Would we gain a more positive body image? The answer is yes. For the study, researchers asked 153 female college students to answer questions about their height and weight as well as their perceived levels of self-compassion, self-esteem, body image and their eating behaviors.
Regardless of their weight, women with higher self-compassion have better body image and are better able to cope with life's ups and downs, according to new research.

Research out of the Faculty of Arts at the University of Waterloo, Ontario, Canada found that this self-compassion might be an important means to increase positive body image and protect girls and young women against unhealthy weight-control practices and eating disorders.

"Women may experience a more positive body image and better eating habits if they approach disappointments and distress with kindness and the recognition that these struggles are a normal part of life," said Professor Allison Kelly of the Department of Psychology at Waterloo, and the study's lead author.

"How we treat ourselves during difficult times, that may seem unrelated to our bodies and eating, seems to have a bearing on how we feel about our bodies and our relationship with food."

This study in the journal …
So the next time you find yourself thinking not-so-nice thoughts about yourself or your body, stop and practice self-compassion. Treat yourself as you would a person that you love dearly (a friend, child, sister), because you are also deserving of your warmth, acceptance and unconditional love.
Please Read this Article at NyrNaturalNews.com