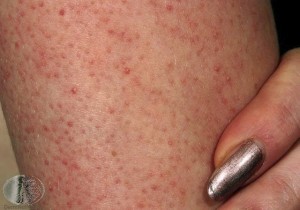 Keratosis Pilaris (KP) is a most common skin disorder which can be faced by the people of all age groups but more common in women rather than men particularly in puberty, pregnancy and child birth. It is rough patches and small bumps that occur on the upper arms, cheeks, thighs, legs and buttocks of the skin which gives the appearance of chicken skin. It has the symptoms similar like acne (bumpy, uneven dry skin, pimples, etc.) but the bumps have the same skin color or sometimes they look like red or inflamed, known as keratosis pilaris rubra faceii. The affected part of the skin becomes either darker or lighter than the surrounding skin and also sometimes gets dry and chapped. Although these keratosis pilaris bumps don't hurt and harm the individual's but affects their confidence and has an adverse psychological impact on them.
In today's post, guest author and licensed aesthetician Lauri Shea, LE shares her insight and personal experience in managing Keratosis Pilaris (KP)–also commonly referred to as "chicken skin"–and then shares a simple, yet effective DIY recipe you can try to help improve the appearance of this condition. At the end, I'll give some additional holistic measures you can add to your regimen.


About Keratosis Pilaris
One of the most frustrating skin conditions I personally have is keratosis pilaris. My arms are bumpy because every single hair follicle is red and clogged with dead skin. I've had a friend ask why my 'pores' are so big while pointing at my upper arms. It's a very visible and unattractive condition.
Keratosis Pilaris, also called KP, is a very common skin condition affecting 40% of adults, and many children. It often occurs on the arms, legs and cheeks. The severity of it varies but it generally gets worse in the winter when the air is drier and the skin becomes more dehydrated.

Part of the reason for the appearance of KP is that the skin of the affected areas doesn't shed dead skin cells at the same rate as unaffected skin. Plugs of keratin, the protein that makes up the outermost layers of the skin, accumulate and become trapped inside the follicles.
Generally, people who have this condition immediately think of going to a dermatologist, but this is often not necessary. In fact, one of the best treatments for KP is already right in your kitchen!
I started using this treatment at home when I began studying skin. The symptoms of KP are dehydration, dryness, and buildup; so to address it, you need the combination of water, oil, and exfoliation. As a student I didn't have the option of buying a 'real' skincare product to treat it, so I found an empty jar and made my own–and it works!

Ready for the recipe?

Sugar + olive oil.

That's it.

I started using this mixture in the shower every morning–this provides the necessary combination of water, oil, and exfoliation. Once my skin is wet, I scoop up some of the mixture in my hands and scrub in small circles, paying particular attention to the most affected areas. Then I rinse very well with water.
This method exfoliates the buildup of cells while sealing water into the skin with oil. After rinsing, water beads up on the skin. After doing this for a week I noticed a huge difference.

During an advanced class with Dr. Mark Lees about skin conditions, we began to discuss KP and its potential treatments. I raised my hand and said I had been treating my KP with sugar and olive oil and asked whether or not that was okay. He paused for a minute and then said, "that seems like it would be effective, as long as the oil gets rinsed away pretty throughly."

So I continued using it. As long as I'm consistent with using this mixture, my arms are smooth and even the redness of the follicles disappear. If I skip a few days, I can feel the dryness start to return and the texture gets worse. For an extra boost, sometimes I add a few drops of organic essential oils, like lavender, tea tree, or rose.

There is no cure for Keratosis Pilaris, but constant, daily treatment with sugar and olive oil makes it look and feel like it has been cured.

I'd like to add that KP has been associated with certain food intolerance's and/or allergies like gluten and dairy, as well as with deficiencies of Vitamin A, Vitamin C, and Zinc. If you have KP, try eliminating gluten and/or dairy and upping your consumption of foods that contain the above nutrients in addition to Lauri's D.I.Y. remedy.
Remember, these bumps are extremely common, so don't feel self-conscious about them. By incorporating these simple habits that are good for your overall health too, you can feel more confident putting on that tank top or sundress this summer with the best accessory there is: glowing skin!