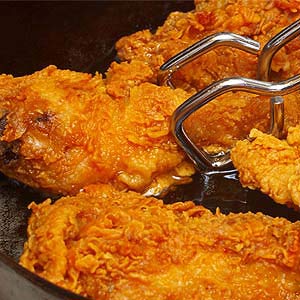 Fried foods date back to ancient cultures in Europe, Asia, and even North America. In medieval times, fried chicken was already being eaten in western Europe. Scottish immigrants to the United States are often credited with being the ones to introduce fried chicken to the country where as most other European immigrants to the country ate baked chicken.
Many of these Scottish immigrants settled in the southern United States where fried chicken became extremely popular. When African slaves who worked as cooks were brought to the country, they put their own spin on the dish using seasonings and spices not found in most Scottish dishes.
Everybody loves good 'ole fried chicken. But sadly, it's almost impossible to enjoy a bucket of your favorite fried chicken guilt-free these days, with all the health concerns involving the trans-fats, the omega-3 to omega-6 imbalance, and all the dilemma brought by chickens raised in confined animal feeding operations (CAFOs).

If you like spending time in the kitchen, I'm sure you've got a yummy and easy fried chicken recipe up your sleeve. But if you really want to enjoy this classic dish without the lingering guilt, let me show you a healthy fried chicken recipe that every mom will absolutely approve.

Ingredients:6 organic chicken breasts or thighs4 organic, free-range eggs

½ cup almond meal

2 tablespoons fresh or 1 teaspoon dried parsley

1 tablespoon dried garlic

2 tablespoons coconut oil

Directions:

Beat eggs in a shallow bowl.
Combine almond meal, parsley, and garlic on a large plate. Mix well.
To prepare chicken, dip one breast in beaten …

Over the years, many variations on coatings have been offered. For example, after dredging in flour, dip the chicken in an egg yolk, paprika and red hot pepper sauce; then roll it in breadcrumbs before frying. Others prefer dipping the chicken in buttermilk before flouring. Another option is to soak the chicken in milk and lemon juice overnight. Another popular preference is to inject the chicken with a spicy concoction before frying.
Please Read this Article at Articles.Mercola.com