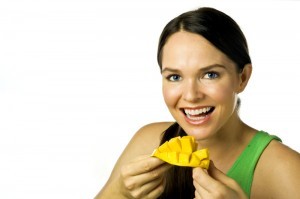 Well, if this doesn't give you a reason to read further on how you should eat Mango's I don't know what to tell you.
1. It Helps Fight Cancer
Many foods are believed to have anti-cancer properties, but rigorous research is needed to support these claims. Texas A&M AgriLife Research is a big research facility that studies the impact of food on health, looks at the biological underpinnings of cancer, and develops new cancer treatments. Mango was one of their recent research projects. Doctor Talcott, a nutrition scientist at AgriLife Research, led a study that showed that mango's polyphenols (antioxidant-like plant chemicals) could have cancer-fighting properties.  Adding mango to your diet can be particularly beneficial for breast andcolon cancer prevention and further studies are in progress.
Go to page 2 to learn about Brain Power!