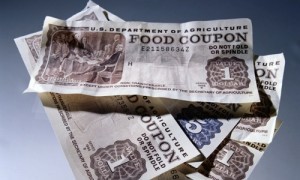 The Georgia Supplemental Nutrition Assistance Program (SNAP), also known as the Food Stamp Program is a federally funded program that provides monthly benefits to low-income households to help pay for the cost of food. A household may be one person living alone, a family, or several unrelated individuals living together who routinely purchase and prepare meals together.
Anyone may apply for food stamp benefits. The program helps households that have limited income and resources.
While food assistance varies from state to state, a typical family using the Supplemental Nutrition Assistance Program (SNAP), the official name for food stamps, will have about $3.37 per person, per day, with which to buy food.

Many families run out of food stamps after the first two weeks of the month and rely on food banks to fill in the gaps. On a budget this tight, fruits and vegetables are often purchased only if there's money to spare, and often there isn't.

But while cost is one of the most often-cited obstacles to eating a healthy diet, there are low-cost superfoods available that contribute priceless benefits to your health. Further, research from the Harvard School of Public Health (HSPH) found that eating a healthy diet costs only $1.50 more per day…

Healthiest Diets Cost About $1.50 More a Day Than Least Healthy Diets

Researchers from HSPH conducted a meta-analysis of 27 studies, evaluating …
The U.S. Department of Agriculture through the Food and Nutrition Service continues to conduct research and studies aimed at improving the program. By improving access to the program in addition to on-going outreach and education, the USDA hopes to increase participation rates for those who are eligible for the SNAP/Food Stamps, but are not receiving benefits.
Please Read this Article at Articles.Mercola.com