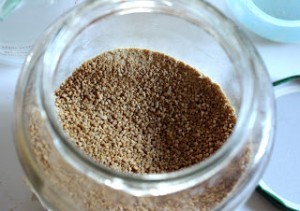 Most preppers start out by building a stockpile of food and other supplies to use in case of emergency. That makes sense, as without the right supplies it's hard to make it through any crisis situation. Of course, that raises the question of what to stockpile. While that may seem like an easy question to answer, it's really not. Several books have been written about the subject, none of which offer exactly the same advice.
Having a healthy pantry doesn't mean that you have to skip all things sweet and tasty. A spoonful of sugar doesn't just help the medicine go down. It can add a sense of normalcy and a little touch of luxury in a bad situation. Can you imagine celebrating a special occasion without dessert? Sugar can be used to activate the yeast in breadmaking, and in home preservation and jam-making.

It's important to be particular about the source of your sugar, however. The white sugar that you get at most grocery stores is highly processed and any mineral content is lost in order to make the fine uniform crystals that we are all so familiar with. But it isn't only nutritionally deficient. Table sugar comes from either sugar cane or sugar beets. An alarming 95% of the sugar beets grown in North America have been genetically modified to allow them to withstand …
One system that works out very well for determining how much to buy is to develop a two-week menu for your family. With that in hand, you can easily total up how much of each type of food you'll need to prepare everything for two weeks. Multiplying that out will give you an idea of how much food you need to last your family for any period of time.
Whatever you do, don't try to run out and buy a year's worth of food in one week. Take your time. Start by building a two-week stockpile; then increase it to a month. Keep adding, a month at a time, until you reach the point that you feel you need. Keep your eye open for sales as well, as that will provide you with needed opportunities to save money.
Please Read this Article at NaturalBlaze.com