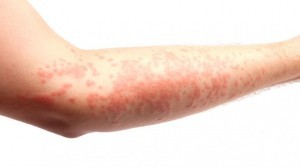 Eczema  is a term for a group of medical conditions that cause the skin to become inflamed or irritated. The most common type of eczema is known as atopic dermatitis, or atopic eczema. Atopic refers to a group of diseases with an often inherited tendency to develop other allergic conditions, such as asthma and hay fever.
Eczema isn't just a painful, chronic problem for many — it's a big drain on the pocketbook, too, a new study finds.

Researchers at Northwestern University Feinberg School of Medicine in Chicago report that adults with eczema have higher health costs and more health care-related problems than those without the skin condition.

That finding didn't surprise dermatologists.

"When their skin is not properly managed and cared for, their disease may flare — resulting in significant itch and discomfort, leading to a lack of sleep and decreased productivity at home and at work," explained Dr. Katy Burris, a dermatologist at North Shore-LIJ Health System in Manhasset, N.Y.

About 10 percent of adults and nearly 11 percent of children in the United States have eczema, but there has been little research into the costs associated with the disease, according to the study authors.

In the study, a team led by Dr. Jonathan Silverberg of Northwestern tracked data from more than 61,000 American adults.

The researchers found that those with eczema paid more than $29.3 billion in out-of-pocket health care costs in 2012 alone.

Compared to those without the condition, adults with eczema were also more likely to have six or more lost workdays due to any cause, more doctor/emergency room/urgent care visits, and more hospitalizations.

The study also found that adults with eczema were more likely to be unable to afford prescription medicines, or to delay care due to worries about costs. They were also more likely to experience delayed care because they could not get a medical appointment soon enough, reach a doctor's office or had to wait too long to see a doctor.

"This study demonstrates that adults with eczema have a major health burden with significantly increased health care utilization and costs," Silverberg's team wrote.

Burris said the findings should serve as a means "to better educate and treat those afflicted, in order to reduce the number of eczema flares and ultimately improve overall outcomes."

Dr. Andrew Alexis is chair of the department of dermatology at Mount Sinai St. Luke's and Mount Sinai Roosevelt Hospitals in New York City. He said the study "highlights the health and economic burden of eczema in adults in the U.S. … demonstrating increased sick days, higher health care utilization, and substantial costs associated with adult eczema."
The FDA has approved two drugs known as topical immunomodulators (TIMs) for the treatment of mild-to-moderate eczema. The drugs, Elidel and Protopic, are skin creams that work by altering the immune system response to prevent flare-ups.
The FDA has warned doctors to prescribe Elidel and Protopic with caution due to concerns over a possible cancer risk associated with their use. The two creams also carry the FDA's "black box" warning on their packaging to alert doctors and patients to these potential risks. The warning advises doctors to prescribe short-term use of Elidel and Protopic only after other available eczema treatments have failed in adults and children over the age of 2. It should not be used in kids under age 2.
Please Read this Article at NaturalBlaze.com