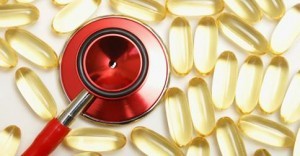 This ongoing research builds on the fact that previous randomized controlled studies–eleven in total—have shown that using specific therapies to treat persons at risk for psychosis leads to a smaller number of individuals developing psychosis within one year.
And since researchers and clinicians know that it is possible to spot the early warning signs of psychosis–as opposed to waiting until a full blown episode emerges– intervening earlier using approaches such as lower doses of antipsychotics, cognitive behavioral therapy (CBT) along with omega-3 fatty acid supplements offer promise for those at high risk.
Psychosis is defined as a state when a person intermittently loses contact with reality, leading to an abnormal state of mind. In persons diagnosed with schizophrenia, which is a severe form of psychosis, cell membrane content of omega-3 polyunsaturated fatty acids (PUFAs) has been found to be low.
In 1999, Harvard psychiatrist Dr. Andrew Stoll published a study showing that omega-3 fats improved the course of illness in people with bipolar disorder. In 2001, he published the book The Omega-3 Connection, which was among the first works to bring attention to and support the use of omega-3 fats for depression.

Now, more than a decade later, there has been additional research supporting the importance of omega-3 fats for mental health, including a potentially groundbreaking study presented at the 2014 International Early Psychosis Conference in Tokyo, Japan, which took place in November.

Omega-3 Fats May Delay Development of Psychosis

Sixty percent of your brain is made up of fat. The omega-3 fat DHA alone makes up about 15 percent to 20 percent of your brain's cerebral cortex. It's found in relatively high levels in your neurons – the cells of your central nervous system, where it provides structural support.

Because your brain is …

Overall, this study provides promising results that suggest that fish oils warrant further investigation as a preventive treatment in young people at high risk of psychosis. Future studies should include a larger number of participants and follow them up for a longer period of time.
Please Read Article At Articles.Mercola.com