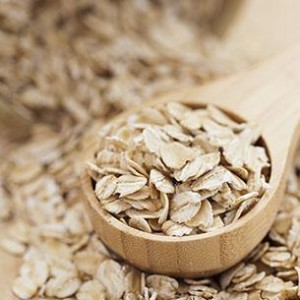 In view of the increasing prevalence of cardiovascular disease (CVD), identifying functional foods that reduce CVD risk factors (including high blood cholesterol) is an important area of research. A body of evidence has accumulated, strengthening the association between oat beta-glucan consumption and a decrease in blood cholesterol, according to a review by researchers from the University of Manitoba, Canada.
The researchers reviewed studies that assessed the effects of oat beta-glucan on blood cholesterol levels over a minimum of two weeks. Sources of oat beta-glucan included oat bran, oat meal and rolled oats, which were consumed as breakfast cereals, biscuits, bread, muesli, muffins, and powders. The selected studies were published between 1997 and 2010; 22 studies met the inclusion criteria (20 clinical trials, 1 systematic review, and 1 meta-analysis).
Daily consumption of at least 3 grams of oat beta-glucan may reduce cholesterol levels more than has been previously thought, according to a new analysis.

These greater effects are linked to high molecular weight forms of the ingredient, says the scientists.

Beta-glucan, a type of dietary fibre found in abundance in oats, has been recognised as having blood cholesterol-lowering properties. A major proposed mechanism is that dietary oat beta-glucan forms a viscous layer in the small intestine.

The viscous layer attenuates the intestinal uptake of dietary cholesterol as well as the re-absorption of bile acids (which the body makes from cholesterol). In response, the body draws upon the pool of circulating cholesterol to produce new bile acids. Lower uptake of cholesterol from the gut combined with more bodily cholesterol used for bile acid production results in reduced levels of cholesterol, particualrly LDL (bad) cholesterol, circulating in the blood.

A closer look

Previous meta-analysis have reported …
Six grams concentrated oat ?-glucan per day for six weeks significantly reduced total and LDL cholesterol in subjects with elevated cholesterol, and the LDL cholesterol reduction was greater than the change in the control group. Based on a model intestinal fermentation, this oat ?-glucan was fermentable, producing higher amounts of butyrate than other fibers. Thus, a practical dose of ?-glucan can significantly lower serum lipids in a high-risk population and may improve colon health.
A barrier to use of soluble fiber in the past has been the poor acceptability of foods high in soluble fiber for an extended period. We measured the effect of 6 g/day of concentrated ?-glucan from oat on biomarkers of interest in CHD and CVD. The human feeding trial was designed to identify if the physiological effects of concentrated ? glucan from oat will improve serum biomarkers of cardiovascular risk in subjects at high risk of cardiovascular disease by measuring changes in total cholesterol, LDL-cholesterol, HDL-cholesterol, triglycerides, apolipoprotein A-1, apolipoprotein B and other blood metabolites. Model intestinal fermentation was used to estimate in vivo short-chain fatty acid production.
Please Read this Article at NyrNaturalNews.com