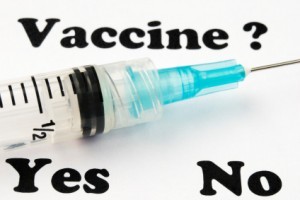 Millions of Americans have come to distrust vaccines and mainstream medicine's vaccine agenda. There is a growing movement in this country and around the world that questions the safety and effectiveness of all vaccines for obvious reasons. Many childhood disorders such as autism, ADD/ADHD, SIDS and others have been linked to vaccines. Thousands of soldiers who served in the military have been severely disabled or in some cases even died after receiving their mandated shots. Vaccines are the most controversial subject in all of medicine.
What does an informed parent look like? We'll show you.

Below is a letter written by Bob O'Kane, a concerned parent, to his pediatrician about vaccines and the danger they pose to his child. This letter is one great example of how to approach your doctor, especially if you have looked into the matter further and are uncomfortable with their stance on the topic.

Doctor XXX,

My wife and I would like to say it was an absolute pleasure to meet you. We thank you for taking the time with us the other day to discuss our beautiful little daughter Rylan.

I was wondering if I could take a moment to discuss something with you real quick regarding the notes I read this evening in her file. Please note, this is a very calm letter and not meant to start a debate in any way. We value your profession and position.

That being said, It's in my …
When it comes to vaccination, parents are not responsible for their own children only – their decision pro or against vaccination may have a significant impact on others! There are proven cases of babies being infected by measles while sitting in a pediatrician's waiting room.
Please Read this Article at NaturalBlaze.com