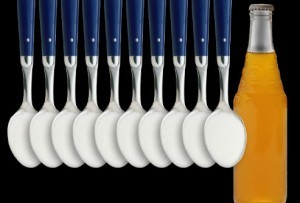 Ever wondered why you couldn't lose weight, or couldn't seem to stick to a diet? It's likely that you were roped in by a sugar addiction and didn't even know it. Here's a five-step plan to help you cut cravings for the sweet stuff and start filling up on whole foods. Eating this way won't just help you kick sugar to the curb—you'll feel better, lighter, and more energized. And you'll find it so much easier to stick to your weight loss goals.
Not all sugars are created equal, and they're hidden in most of today's processed foods. Nutritionist, fitness trainer, and author JJ Virgin has written a new book that helps open your eyes to the way sugars are hidden.

The book also provides practical tips on how to wean yourself from this pernicious ingredient that will decimate your health.

In The Sugar Impact Diet: Drop 7 Sugars to Lose Up to 10 Pounds in Just 2 Weeks, she tackles the confusion surrounding sugar. Many health-conscious people are still under the mistaken belief that as long as the sugar is all-natural, it's fine to eat.

Not so. Agave, natural fruit juice, raw cane sugar, and any number of other natural sugars will still wreak havoc on your health.

"Sugar is really public enemy number one," she says. "That's why I chose to focus on it. I don't think added sugar is really the problem; I think …

Remember, each phase takes time. Follow the allotted time guidelines—as a minimum. Be patient with yourself. If you find that one phase takes longer than what is listed or than you expected, that's fine! The important point is to achieve the goal of that phase, not how quickly you do it. Try to identify why certain phases are more difficult than others. This may help you to troubleshoot and figure out ways to transition through that phase that are specific to your needs. Invest the time you need; it will be well worth it in the long run.
Please Read this Article at Articles.Mercola.com