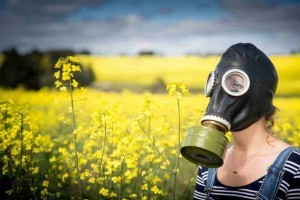 So far a majority of member states of the European Union would like to ban genetically modified organisms (GMOs) from their territory. This so-called op-out clause is at the centre of a huge discussion on European rules to be established by next year. But regardless, the outgoing Commission could meanwhile give green light to new GMO crops.The European Parliament is discussing proposals made by the Commission and member states to give European countries the right to forbid or restrict the cultivation of certain or all GMOs on their territory.
New legislation to allow EU member states to restrict or ban the cultivation of crops containing genetically modified organisms (GMOs) on their own territory, even if this is allowed at EU level, was passed by MEPs on Tuesday. The legislation, informally agreed by Parliament and Council in December, was originally tabled in 2010 but was then deadlocked for four years due to disagreement between pro- and anti-GMO member states.

"This agreement will ensure more flexibility for member states who wish to restrict the cultivation of the GMOs in their territory. It will, moreover, signpost a debate which is far from over between pro- and anti-GMO positions" said Frédérique Ries (ALDE, BE), who is steering the legislation through Parliament.

"As to what comes next, I place my trust in Commission President Jean-Claude Juncker's formal pledge to strengthen the democratic process on GMOs in Europe and ensure that research is genuinely independent", she added. …
How utterly contemptuous of a country's sovereign rights this arrangement was, and how it found its way into procedure illustrates dramatically the power and influence that the GM and biotech industry has come to wield in the EU – the decision of the geographical scope of an EU authorisation gave more weight to biotech/GM companies than to governments!
In the debate about GM crops, the argument that the biotech industry and their supporters always fall back on is that whether we like it or not, we are going to need them to feed the world. Genetic modification has, they assure us, the potential to produce crops with all sorts of wonderful traits: tolerance of drought, cold, salinity and flooding, resistance to insect pests, extra nutritional value, and more.
Please Read this Article at NaturalBlaze.com