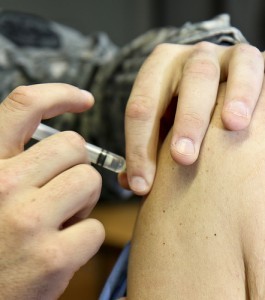 Parents who choose not to vaccinate their children and protect them with vaccine exemption forms are often chastised and stereotyped for putting their own kids at risk. But what is even stranger than this assault on individual freedom and informed choice, is that these concerned parents are attacked for putting vaccinated children at risk.
These attacks are based on the theory of "herd immunity." This hypothesis was plucked out of an old college textbook. It states that the more people are immune to an infectious agent, the less likely an immune-compromised individual is to come in contact with it. In other words herd immunity serves as a human shield – a type of immunity – for "at-risk" individuals. But remember, it's only a hypothesis.
The decision to vaccinate is yours alone, but it is a decision that should not be taken lightly or done under duress or pressure by others. Once vaccinated, the potential side-effects cannot be easily undone, if at all. These include death, sudden infant death syndrome, auto-immune disorders, inflammatory bowel disease, allergies, asthma, ADHD, autism, Guillian-Barré Syndrome and other neurological damage.

Your physician will most likely NOT connect the development of these unnatural disease states with vaccination, whether they occur immediately after vaccinations, several days or months later. You alone will be responsible for treating your child or yourself for these life-long diseases.

The following are ten reasons not to vaccinate. Additional educational resources follow.

1. Vaccines have never been proven safe or effective. Vaccine studies funded by pharmaceutical companies compare vaccine "side-effects" from one vaccine to another. True, scientific, double-blind placebo studies have never been conducted on vaccines to determine their safety. Effectiveness …
While I would like to convince you to never vaccinate your child, if I can simply convince you to delay it for a few years that is certainly better than vaccinating a baby. If you can simply commit to waiting until your child is school age to vaccinate, so much the better than if you vaccinate as a toddler and so on. Time is on your side and waiting is the best policy when it comes to shots.
By the time your child is older, more research will have been done, you will have an opportunity to learn more and become more comfortable with your decision to wait. Who knows? Your attitude of wait and see may turn out to be permanent.
Please Read this Article at NaturalBlaze.com