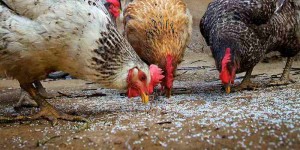 While many U.S. supermarkets continue to stick their heads in the ground when it comes to potential GMO dangers, Germany's top supermarkets (behemoths when it comes to European retail food supply) are delivering a big blow to biotech. The German poultry industry will now be forced to once again use non-GMO feed.
Wiesenhof, the largest German poultry producer, has announced that it will turn back to using GM-free animal feed due to consumer demand.

Wiesenhof's U-turn comes just 10 months after the German Poultry Association (ZDG) unilaterally declared that it was stopping using GM-free animal feed, following similar moves by other associations in England and Denmark. The reasons provided for the step after over a decade of GMO-free feeding were an alleged shortage of GMO-free soya, the risk of contamination, and the associated legal uncertainty.

Wiesenhof confirmed on Friday that they will soon be in a position to supply GM-Free fed poultry again, as this is what is "desired by customers".

Alexander Hissting of VLOG (Association Food without Genetic Engineering) told Spiegel; "We expect an almost complete return of the poultry meat industry to GMO -free production in the coming months."

Wiesenhof's decision is a direct result of pressure from the top …
The ZDG has reacted to the pressure from the supermarkets and consumers by proposing to the retailers to set up a working group to discuss options, but it is clear that both retailers and consumers have their minds made up.
They demand a completely GMO-free feed supply chain in all animal feed sectors, including dairy, pork, and beef as a next step that is to follow relatively soon.
Read Article At NaturalBlaze.com