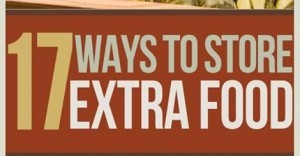 Survival food storage ~ What IS the best way to properly store your survival food for long term? Below you will find my favorite tips and tricks. There are some great ways to keep your goodies fresh and the bugs out.
There are so many creative and clever ways to store things without spending much time or money at all. Some of these are especially nice for a small home or apartment where you simply don't have the space to just throw everything in a drawer or cupboard. Hopefully, some of these tips will help you in your quest to find room for everything while still keeping it easy to access and use!
One of the biggest hang-ups of them all though, is WHERE to keep your food storage. Many of us live in smaller footprints as it is, without trying to cram in several months' worth of food somewhere (or we just have so much junk it's practically spilling out of our houses!).

Even so, with a little creativity, there are likely some additional places you can store food in your home, no matter what your living situation is. Without further ado, here are 17 of them.
The 17 Places You Can Keep Extra Food StorageUnder the Bed: This space is primo, and there are a lot of ways you can do it. One easy way is to line the reachable perimeter with boxes of food. For a slightly more sophisticated version, you can incorporate a simple rotation system, by storing foods of the same type in rows running underneath your bed. The new cans are put in on one side, and the oldest cans are taken from the other. If you're interested, here's a closer look at how to do it:

The Food Storage Entertainment Center: How about creating your very own "food storage entertainment center" out of large boxes of food. This can be done easily by stacking boxes into your desired shape for a TV stand, and then draping with fabric. Tuck the fabric in tightly for a sleek, modern look, and then set your TV, DVD player, speakers, remotes, or anything else you want on your new food storage furniture!

Create False Bottoms in Cupboards: If you have a broom closet, pantry, low cupboards in the kitchen, or other areas in the house that have leftover vertical space, creating a false bottom allows you to incorporate some food storage. To do this, simply layer the floor with cans of the same height, and then cover with a piece of plywood, to create your new "false floor." In practice, the false floor works best for storing #10 cans, because they are likely bulk ingredients that you will not be using every day.

High Closet Shelves in Kids' Bedrooms: If your kids have closets with high shelves, this could be a good option for some food storage space. Chances are, they can't reach the high shelves to be using them anyway, so this area is frequently underutilized. Alternatively, some people opt for a false floor in kids' closets, or a wall of #10 cans stacked on one side. While these certainly aren't out of the question, having your food storage lower to the ground in kid's closets increases the likelihood that they might get into it (and in the case of the #10 can tower could actually be somewhat dangerous if the cans were to fall!)

Cupboard Door Spice Racks: Free up some cupboard space by creating a spice rack on the inside of a cupboard door. Purchase a lightweight, slim profile rack that can be screwed to the inside of the cupboard door, then transfer your spices to it. This leaves your main cupboard area open for storage. The spice rack can be done even more simply and inexpensively with pegboard, Velcro, or in some cases, even magnets!

The Coat Closet: Are you actually using your coat closet? Many people find that they don't. This could be a great untapped area for your food storage preps! Create some inexpensive shelving, stack cases of cans, whatever you want. Even if you ARE actually using your coat closet to hang coats, you can still utilize "leftover" space by using the false floor technique (above), or the high shelves.

The Faux Wall: Do you have extra space in the center of the room? Bring the walls in! Some preppers have found that by hanging a decorative curtain a couple feet out from the wall, they can stack cans and boxes behind, essentially creating their own wall sized cupboard. This can make a pretty viable option for the living room, dining room, or other living areas, because it still looks aesthetic.

Decorative Containers: Speaking of "aesthetic", another good option for snagging some additional space in the living areas is with decorative containers. Think wicker baskets, hope chests, hollow footstools, and even large urns that would otherwise remain hollow. Stuff these puppies chock full of food, and never notice the difference!

Behind Furniture: Pull out your couches, beds, etc. and store food in the space created behind them. This is similar to the faux wall concept. Cover with a simple fabric covering, table top, or other guise of your choosing.

Under the Stairs: Many homes have already converted the space under the stairs into some kind of storage, but if not, create some simple shelving for this awkwardly shaped storage space, and cash in big time! Under the stairs typically works the best for cans, and other items that are small enough to fit in versatile spaces, and modular enough to be stacked.

Laundry or Utility Room: Do you have a laundry room, furnace room, or other "back of house" area? Odds are there is some space that can be capitalized on for food storage here. The nice thing about these locations is that because they aren't frequented by guests, you don't have to be fancy about how you do it. Stack food along a wall, use a free cupboard, or slice the space any way you please to fit in what you can. Many laundry rooms will actually have some version of an emergency floor drain, so if you have the space, it's not a bad place to store water either.

Dead Space Above Cupboards: Depending on your kitchen, you may have a couple feet of awkward and unused space between the tops of your cupboards and your kitchen ceiling. You know, the place that college kids stuff their Fruit Loops boxes? This space can make for some great additional food storage. So as not to add any significant weight to the supports holding into the your cupboards walls, the best candidates for storing on top of the cupboards are foods that are light. Pastas, soup mixes, dry ingredients, and yes, even the Fruit Loops!

Empty Suitcases: Unless you're a frequent traveler, empty suitcases can make a GREAT place to store extra food. By and large, suitcases are modular, and will take up the same amount of total space whether they are full or not. Put these puppies to use, and fill them with your non-perishables! If you have sealed Mylar pouches as part of your food storage, these work great for maximizing the area inside a suitcase (Bonus: If you accidentally leave some food in your suitcase, the first meal after you land could be free!)

Crawl Space or Attic: Storing food in a crawl space or attic is definitely not the most highly recommended location. These are areas that can be subject to extreme temperatures, moisture, critters, and limited access. Still, if you have these options available to you, and need the space for your food supply, they are worth considering. Think about keeping your dry goods and other "non-foods" in these locations–toilet paper, paper towels, toothbrushes, first aid items, deodorant, etc.

Bed on Cinder Blocks: Hoisting your bed up on cinder blocks to create extra space is a time honored tradition. Although you should be careful to make sure the bed is still steady, you can sometimes double or triple the total "under the bed" volume that you have at your disposal with this technique. Cinder blocks are extremely cheap, and can be purchased at any hardware store. If you are really trying to get your bed up there, stacking two cinder blocks lengthwise under each leg is much more stable than stacking one vertically. They're cheap, so save yourself the heartache!

Exterior Locker: If you have already tapped out all the nooks and crannies you have inside your home, an exterior locker might be worth considering. Like the name suggests, these are tall, upright storage units that can hold a considerable amount, and can be stashed against the side of the house, in a carport or garage, against a fence, or anywhere else. While having your food stores outside is less ideal on a few different levels, it's better than nothing! If you are going to go this route, get a locker that weathers well (not metal!). Also, they can be expensive, so to save even more money, try to find one in your local classifieds.

Cupboards Above the Fridge: Much like the dead space above your kitchen cupboards, the cupboards above your fridge are often underutilized. Because they're a pain to reach, they're frequently forgotten about, or become a catchall for junk. Store some food in these puppies! For even more storage space, take the doors off of those little cupboards, and store food not only IN the cupboards, but also in front of them on top of the fridge. Then cover the whole area with an easy fabric curtain.

There you go, 17 suggestions to maximize the space you have available, for some additional food storage.

Along with all of these suggestions, goes the reminder to put your "longest term" food storage away the deepest. These are the items that you will rarely use, and don't need to be readily accessible.

Above all, as with any prepping, the most important principle is to be realistic about how and where you store your food. If creating a faux wall with a curtain in your living room just isn't your thing, and makes you embarrassed to have people over, then don't do it. If putting your bed up on cinder-blocks annoys you every time you go to jump in, it's probably not worth it. While a little inconvenience here and there isn't going to kill you, prepping should not be something that makes your life miserable.
Not only can food storage can be expensive, but you need to know what kind of food to store, how to rotate it to make sure you have edible food when you need it, along with the correct amount you should have for each member in your family. One of the biggest obstacles you face is where to put all the food you want to store.
Please Read this Article at NaturalBlaze.com