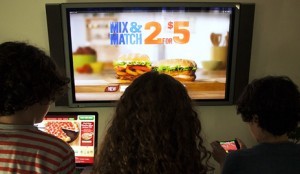 In 2012 the fast food industry spent $4.6 billion to advertise mostly unhealthy products, and children and teens remained key audiences for that advertising, according to a new report by the Yale Rudd Center for Food Policy & Obesity. The report highlights a few positive developments, such as healthier sides and beverages in most restaurants' kids' meals, but also shows that restaurants still have a long way to go to promote only healthier fast-food options to kids.
"Fast food companies in the U.S. spend nearly a quarter of their marketing budgets targeting youth aged 2 to 17 years," said Ohri-Vachaspati. "In 2009, fast food restaurants spent more than $700 million to market their products to children and adolescents; nearly half of the amount went toward premiums such as kids' meal toys."

The study considered a total of 6,716 fast food restaurants – chain and independently owned – between 2010 and 2012. The businesses were selected from a national sample of 434 communities where public middle and high school students reside. Community-specific data were obtained at the block group level and included information regarding median household income, ethnicity and degree of urbanization.

Overall, one-fifth of restaurants sampled used one or more strategies targeting children. The indoor display of kids' meal toys was most popular, followed by exterior ads with cartoon characters, as well as ads with kids' meal toys. Chain …
The current report is a follow-up to the Rudd Center's major 2010 study on fast food marketing to children and teens. At the time, they found that yes, fast food companies did market to children and they did it in a big way. (Hey, at least McDonald's is honest about how the chain makes the burger look so good.)
Currently, 16.9 percent of children and teens are obese, according to the Centers for Disease Control and Prevention — a rate that has doubled in children and tripled among adolescents in the past 30 years. Television advertising may account for some of this difference, as recent studies show a relationship between paying close attention to television messages and excess weight.
Please Read this Article at NaturalBlaze.com