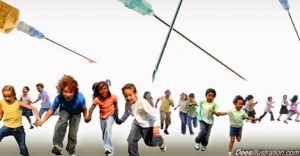 Here is another article describing how Americans are taking action and making a huge difference in pushing back government overreach using methods that are long established and Constitutional.
Senator Barbara Boxer (D) and Representative Anna Eshoo (D-Palo Alto), have proposed federal legislation that would for the first time impose Federal, as opposed to State, vaccine mandates to attend an educational program. The legislators' bill entitled A Head Start on Vaccinations Act would require all children enrolled in Head Start to get all of the vaccinations recommended by the Centers for Disease Control and Prevention (CDC) according to the CDC's timetable. There would be no exemptions for religious or personnel beliefs. READ MORE…AND TAKE ACTION

Indeed, Monterey Herald reports the ladies' plan to introduce the federal bill next week. Alto tried to exercise her comedic abilities when she said, "This bill is a 'booster shot' for our nation's vaccine policies and will mitigate the spread of deadly disease." Get it?

They swooned "the genius" of American scientists for creating vaccines to eradicate polio and emphasize that this bill …
Americans at the local level are the best weapon against tyrants at the federal and local levels. When you work together you can stop the creep towards the cliff.
Please Read this Article at NaturalBlaze.com