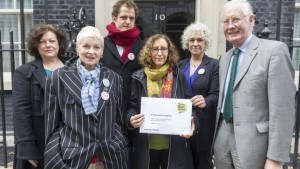 This week has seen a number of big GM-related news stories in the press. Developments in the EU's policy on GM, the announcement of a new three-year study into the long-term health effects of Monsanto's GM maize and a 'Letter From America' warning British citizens of the dangers of growing GM crops is delivered to Downing Street.Under the prospective new system, EU member states will be able to opt-out completely from GMOs, even if those varieties have already been approved for cultivation by the European Commission and the European Food Safety Authority.
This opt-out is generally considered an improvement on original devolution proposals. It was feared these would have obliged national governments to consult with biotech/agrochemical companies to negotiate bans- opening those who refused GMOs up to legal action from a handful of vastly wealthy agrochemical corporations. However many campaigners see even the opt-out as a weakening of barriers to GM within the EU.
In an open letter published in The Times newspaper and promoted through a digital billboard at Waterloo station, American celebrities, Susan Sarandon, Daryl Hannah and Robert Kennedy Jr joined US NGOs, trade groups and businesses such as Food & Water Watch, the Sierra Club, the Rachel Carson Council, Friends of the Earth, the Organic Consumers Association, Dr Bronner's and NYR Organic to warn British citizens of the dangers of growing GM crops and urge them to speak out before it's too late.

The warning comes at a critical time as the European Parliament will vote in January whether member states can decide for themselves to grow GM crops or not. If this legislation is passed, the UK could see the planting of commercial GM crops within the next six to eighteen months.

The letter, which highlights the problems and challenges which American farmers, consumers and others have faced over nearly two decades …
In spite of this massive public mandate, efforts to get our federal[iii] and state[iv] governments to better regulate, or simply label, GMOs are being undermined by large biotech and food corporations with unlimited budgets[v] and undue influence.
As you consider your options, we'd like to share with you what nearly two decades of GM crops in the United States has brought us. We believe our experience serves as a warning for what will happen in your countries should you follow us down this road.
Please Read this Article at NaturalBlaze.com