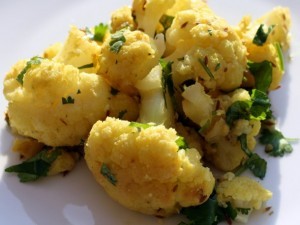 Enjoy the extra flavor and health benefits from combining cauliflower with turmeric for this easy-to-prepare, great-tasting side dish that will complement almost any meal. Turmeric has long been recognized as a powerful anti-inflammatory in both Chinese and Indian systems of medicine, and modern scientific research continues to reinforce the benefits of this tasty spice. One serving of this dish also provides 181% of the daily value (DV) for vitamin C, 46% DV for vitamin K, and 33% DV for folate.
If you're looking for a warm, hearty, and healthy side dish, roasted turmeric cauliflower is one recipe you'll want to keep on standby. Turmeric has a slightly spicy flavor with notes of ginger and pepper.

When combined with the somewhat nutty, even sweet, flavor of cauliflower, which is brought out even more by roasting, you'll find there's no need to overload on starchy mashed potatoes or rice to get your comfort-food fix – this recipe is bound to become a new go-to favorite.

Better still, this recipe, from Black Fitness Today, is delicious served warm during the fall and winter, but come spring and summer, it also works well chilled as a summer salad.

The Recipe

Roasted Turmeric Cauliflower

Ingredients:

1 head of organic cauliflower
1 tbsp. olive oil [or coconut oil]
1 tbsp. turmeric
Pinch of cumin
Salt and pepper to taste

Directions:

Preheat oven to 400 degrees Fahrenheit.
Chop cauliflower head into florets.
Place cauliflower into a baking dish. Add …
In order to better help you identify recipes that feature a high concentration of nutrients for the calories they contain, we created a Recipe Rating System. This system allows us to highlight the recipes that are especially rich in particular nutrients. The following chart shows the nutrients for which 5-Minute Healthy Sautéed Cauliflower with Turmeric is either an excellent, very good, or good source.
Read Article At Articles.Mercola.com