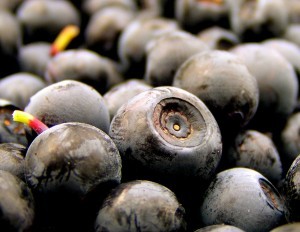 If delicious wild blueberries, also known as bilberries, are your favorite berries, you have reason to rejoice- they are good for your health also.
For the very first time, researchers have shown that bilberries have beneficial effects on blood pressure as well as inflammatory responses derived from nutrition. It is often seen that low-grade inflammation and high blood pressure are linked with obesity associated diseases. This study focused on the health effects which were seen when mice fed with high-fat diet for a few months were then fed bilberries.
Eating bilberries diminishes the adverse effects of a high-fat diet, according to a recent study at the University of Eastern Finland.

That's good news for this time of year when rich, fatty foods are inevitably on many family menus.

For the first time, bilberries (Vaccinium myrtillus) were shown to have beneficial effects on both blood pressure and nutrition-derived inflammatory responses.

Some of the mice were fed either 5% or 10% of freeze-dried bilberries in the diet. The researchers assessed the effects of the diets by looking at inflammatory cell and cytokine levels, systolic blood pressure, glucose tolerance, insulin sensitivity and weight gain.

Mice on the high-fat diet experienced significant weight gain and detrimental changes in glucose and lipid metabolism, inflammation factors and blood pressure. Bilberries diminished the pro-inflammatory effects of the high-fat diet, indicated by an altered cytokine profile and a reduced relative prevalence of inflammation supporting T-cells. Bilberries also prevented elevated blood pressure …
The beneficial health effects of bilberries can be attributed to polyphenols, particularly anthocyanins, found in higher levels in bilberries than in blueberries which are commercially cultivated. Bilberries are an integral part of the Nordic diet. They are linked with several beneficial health effect, which is why, traditional wisdom recommends having them regularly.
Please Read this Article at NyrNaturalNews.com