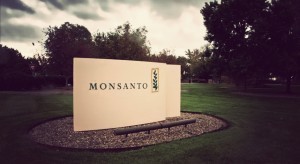 How is it that Monsanto is allowed to manipulate our food after such a dark product history? How is it they are allowed to cause such detrimental impact to our environment and our health? According to the Organic Consumers Association, "There is a direct correlation between our genetically engineered food supply and the $2 trillion the U.S. spends annually on medical care, namely an epidemic of diet-related chronic diseases. Instead of healthy fruits, vegetables, grains, and grass-fed animal products, U.S. factory farms and food processors produce a glut of genetically engineered junk foods that generate heart disease, stroke, diabetes and cancer—backed by farm subsidies—while organic farmers receive no such subsidies.
The reasoning as to why this multinational agrochemical and agricultural biotechnology corporation is such a hot topic is more than well-documented by this point. It's so well-documented that an entire global march has been founded in protest to the stance and actions taken by this company, the March Against Monsanto. However, the focus of this article is to shed some light on some of the most harmful products that Monsanto has had at least a part in bringing to market, some of which they still stand by to this day.

Originally put together by GMO Awareness, here are the 12 most awful products made by Monsanto:

1. Saccharin

What is it? – Plain and simple saccharin is an artificial sweetener. Around since the 1800s, saccharin did not become widely popular as an alternative to sugar until the 20th century – thanks in large part to the efforts of …
Monsanto's history reflects a consistent pattern of toxic chemicals, lawsuits, and manipulated science. Is this the kind of company we want controlling our world's food supply? P.S. Monsanto's not alone. Other companies in the "Big Six" include Pioneer Hi-Bred International (a subsidiary of DuPont), Syngenta AG, Dow Agrosciences (a subsidiary of Dow Chemical, BASF (which is primarily a chemical company that is rapidly expanding their biotechnology division), and Bayer Cropscience (a subsidiary of Bayer). The website Biofortified.org maintains a complete list of companies doing genetic engineering.
Please Read this Article at NaturalBlaze.com