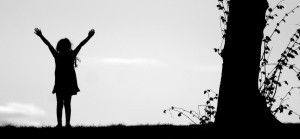 Gratitude means thankfulness, counting your blessings, noticing simple pleasures, and acknowledging everything that you receive. It means learning to live your life as if everything were a miracle, and being aware on a continuous basis of how much you've been given. Gratitude shifts your focus from what your life lacks to the abundance that is already present. In addition, behavioral and psychological research has shown the surprising life improvements that can stem from the practice of gratitude. Giving thanks makes people happier and more resilient, it strengthens relationships, it improves health, and it reduces stress.
Besides sharing time with family and friends over food, the primary ingredient of the American Thanksgiving holiday is gratitude. While it's certainly good to have an annual holiday to remind us to express gratitude, there's much to be said for the benefits of cultivating the spirit of thankfulness year-round.

People who are thankful for what they have are better able to cope with stress, have more positive emotions, and are better able to reach their goals. Scientists have even noted that gratitude is associated with improved health.

As noted in a previous article on this topic published in the Harvard Mental Health Letter, "expressing thanks may be one of the simplest ways to feel better:"

"The word gratitude is derived from the Latin word gratia, which means grace, graciousness, or gratefulness (depending on the context). In some ways gratitude encompasses all of these meanings. Gratitude is a thankful appreciation for what an individual receives, …

One of the things these studies show is that practicing gratitude can increase happiness levels by around 25%. This is significant, among other things, because just as there's a certain weight that feels natural to your body and which your body strives to maintain, your basic level of happiness is set at a predetermined point. If something bad happens to you during the day, your happiness can drop momentarily, but then it returns to its natural set-point. Likewise, if something positive happens to you, your level of happiness rises, and then it returns once again to your "happiness set-point". A practice of gratitude raises your "happiness set-point" so you can remain at a higher level of happiness regardless of outside circumstances.
Please Read this Article at Articles.Mercola.com