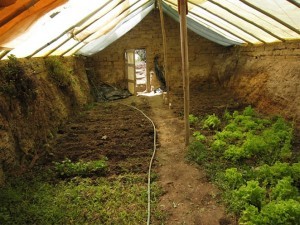 Greenhouses are usually glazed structures, but are typically expensive to construct and heat throughout the winter. A much more affordable and effective alternative to glass greenhouses is the walipini (an Aymara Indian word for a "place of warmth"), also known as an underground or pit greenhouse. First developed over 20 years ago for the cold mountainous regions of South America, this method allows growers to maintain a productive garden year-round, even in the coldest of climates.
Greenhouses are absolutely awesome for year round gardening.
Being a gardener in a colder climate (my growing season is mid-May to October) this is definitely a great idea to help extend my growing season and keep the fresh veggies flowing year round.

By putting this greenhouse underground, you end up saving on materials too, which makes this a cheaper, and warmer, way to grow food year round.

This is one of those things I'm going to have to try as soon as I'm able to own my own land.
"This earth-sheltered greenhouse taps into the thermal mass of the earth, so that much less energy is needed to heat up the walipini's interior than an aboveground greenhouse. Of course, there are precautions to take in waterproofing, drainage and ventilating the walipini, while aligning it properly to the sun — which the manual covers in detail.
Please Read this Article at NaturalBlaze.com