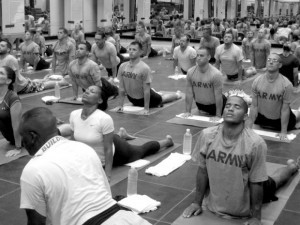 Post-traumatic stress disorder (PTSD) is a mental health condition that's triggered by a terrifying event — either experiencing it or witnessing it. Symptoms may include flashbacks, nightmares and severe anxiety, as well as uncontrollable thoughts about the event.
Many people who go through traumatic events have difficulty adjusting and coping for a while, but they don't have PTSD — with time and good self-care, they usually get better. But if the symptoms get worse or last for months or even years and interfere with your functioning, you may have PTSD.
Soldiers with post-traumatic stress disorder, could suffer fewer distressing symptoms if they were given training in yogic breathing, a new study has found.

One of the greatest casualties of war is its lasting effect on the minds of soldiers. Studies show, for example that more than 20% of veterans returning from the wars in Iraq and Afghanistan have post-traumatic stress disorder, and this presents a daunting public health problem.
According to the Department of Veterans Affairs' National Center for PTSD, the disorder affects 8 percent of the U.S. population. People who have it experience hyperarousal, heightened anxiety and personality changes. Common treatments include cognitive behavioral and exposure therapy and, for some people, medication.
A new study from the Center for Investigating Healthy Minds (CIHM) at the Waisman Center of the University of Wisconsin-Madison offers hope for those suffering from the disorder.

Researchers there have shown that a breathing-based meditation practice called Sudarshan Kriya Yoga can be an effective treatment for PTSD.

Sudarshan Yoga is a practice of controlled breathing that directly affects the autonomic nervous system.

The study which included 21 soldiers – an active group of 11 and a control group of 10 – found that those who received the one-week training in yogic breathing showed lower anxiety, reduced respiration rates and fewer PTSD symptoms.

Calming the nerves

Individuals with PTSD suffer from intrusive memories, heightened anxiety, and personality changes. The hallmark of the disorder is 'hyperarousal', which can be defined as overreacting to innocuous stimuli, and is often described as feeling "jumpy," or easily startled and constantly on guard.

Hyperarousal is an expression of the autonomic nervous system, the system that controls the beating of the heart and other body functions, and governs one's ability to respond to his or her environment.

Individual treatment is the key

According to Richard J. Davidson, founder of CIHM and one of the authors of the study, the goal is to enable physicians to prescribe individualised treatment based on the cognitive and emotional style of the individual patient.

Standard treatment interventions for PTSD offer mixed results. Some individuals are prescribed antidepressants and do well while others do not; others are treated with psychotherapy and still experience residual affects of the disorder.

A clinician, he says, should be able to "use a 'tool box' of psychological assessments to determine the cognitive and emotional style of the patient, and thereby determine a treatment that would be most effective for that individual," he says.

"Right now, a large fraction of individuals who are given any one type of therapy are not improving on that therapy. The only way we can improve that is if we determine which kinds of people will benefit most from different types of treatments."
Yoga specifically encourages mindfulness, which fortifies the body-brain connection and helps soldiers rebuild their senses of control and safety after a traumatic experience. It's a structured activity, so vets have to approach classes with patience and discipline. Yoga teaches veterans how to control the overactive "fight-or-flight" responses that make daily life with PTSD so difficult. Yoga is all about body alignment and breathing, which can help calm down anxieties and help veterans focus on what's going on inside instead of responding to external stimuli.
Please Read this Article at NyrNaturalNews.com