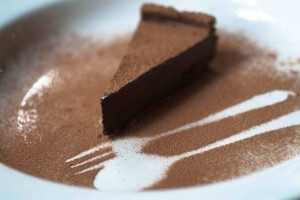 This chocolate cake recipe is like an indulgent mud cake or brownie and so quick and easy to make! The quantities make a small cake but I usually double the recipe to make it a standard cake size to share on family birthdays. Keep in mind that it's quite dense so you only need a very small slice to satisfy.
One of my favorite ways to make chocolate cake is raw with coconut oil, dates, cashews and cacao butter as the primary ingredients. This recipe is one of the better one's I've tried due to it's texture, taste and heavenly chocolate bliss.

For the Crust:

2 cups raw almonds, 200 gr.
1 cup dates
1 tbsp raw honey
1 tbsp coconut oil

Blend the almond, the dates and the coconut oil in the food processor until fine crumbs. Don't do it in the blender, because we want to leave some nuts rough and the blender mixes them to a more creamy mixture. Then add the honey, mix it by hand and press into the bottom of a spring form or any dish you find suitable. Use a square ceramic dish. Put in the freezer until the filling is ready.For the

Filling:

2 1/2 cups raw cashews, soaked for 1-2 hours, 300 gr.
1/3 cup water
1/3 cup maple syrup
1/3 cup …
The kids will LOVE this!
Please Read this Article at NaturalBlaze.com