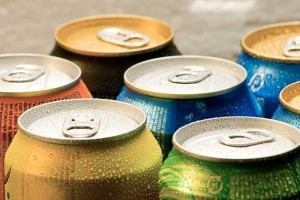 Consumption of sugary soda drinks such as cola and lemonade may be linked to accelerated DNA ageing, say researchers who have studied the impact of the drinks in more than 5,000 people.High-sugar fizzy drinks have been under fire from campaigners for contributing to obesity and type-2 diabetes, but this is the first study to suggest a link with ageing. The researchers found that people who reported drinking a 350ml bottle of fizzy drink per day had DNA changes typical of cells 4.6 years older.
Sugar-sweetened soda consumption might promote disease independently from its role in obesity, according to UC San Francisco researchers who found in a new study that drinking sugary drinks was associated with cell aging.

The study revealed that telomeres — the protective units of DNA that cap the ends of chromosomes in cells — were shorter in the white blood cells of survey participants who reported drinking more soda. The findings were reported online October 16, 2014 in the American Journal of Public Health.

The length of telomeres within white blood cells — where it can most easily be measured — has previously been associated with human lifespan. Short telomeres also have been associated with the development of chronic diseases of aging, including heart disease, diabetes, and some types of cancer.

"Regular consumption of sugar-sweetened sodas might influence disease development, not only by straining the body's metabolic control …
However, the study authors cautioned that more research is needed, noting that the current study only examined participants at one point in time and that association does not equal causation. Currently, a new study is in the works in which Epel and colleagues will follow a group of study participants over a longer period of time and examine the effects of soda on cellular aging.
Please Read this Article at NaturalBlaze.com