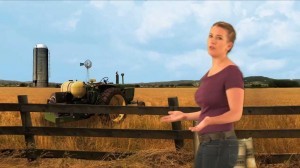 Ten years ago, Certified Organic didn't exist in the United States. Yet in 2010, a mere eight years after USDA's regulations officially went into effect, organic foods and beverages made $26.7 billion. In the past year or two, certified organic sales have jumped to about $52 billion worldwide despite the fact that organic foods cost up to three times as much as those produced by conventional methods. More and more, people are shelling out their hard-earned cash for what they believe are the best foods available. Imagine, people say: you can improve your nutrition while helping save the planet from the evils of conventional agriculture – a complete win-win. And who wouldn't buy organic, when it just sounds so good?
The biggest players in the food industry—from pesticide pushers to fertilizer makers to food processors and manufacturers—spend billions of dollars every year not selling food, but selling the idea that we need their products to feed the world. But, do we really need industrial agriculture to feed the world? Can sustainably grown food deliver the quantity and quality we need—today and in the future? Our first Food MythBusters film takes on these questions in under seven minutes. So next time you hear them, you can too.
Consumers shouldn't have to rely on a technology that is not readily and/or equally available to everyone, and would no doubt be confusing to others. In more than 60 other countries, where laws require the mandatory labeling of GMOs, consumers can simply glance at the package their food comes in to instantly know whether or not the food contains genetically engineered ingredients.