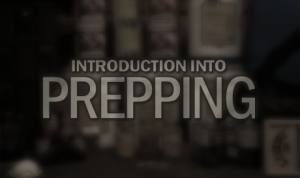 No matter how much I beg, some of you, no doubt haven't done anything to prepare (you know who you are). I don't know what else to do. All I can do is give you the information, it's up to you to act. No one can do it for you. No doubt some of you are intimidated by my repeated suggestions of storing and using whole grains and beans. If it doesn't come from the supermarket shelf it's strange and unfamiliar and you want no part of it. Fair enough.
But you still need to prepare. Here are ten things that you can do now that will make you better prepared than 90% of the population. And everything is available at your local shopping center – so it's easy.
Over the past couple of years, here in America….

Contaminated water caused a complete loss of municipal services in both Ohio and West Virginia, resulting in almost a million people vying for the stock in local stores.

A freak confluence of storms caused a "Superstorm" that took out power to much of the Eastern Seaboard, including New York City and the coastal parts of New Jersey. Nearly a year later, some families were still without electricity to their homes.

Two winters in a row, a "polar vortex" caused horrifyingly low temperatures and paired with winter storms to make the mid-western US resemble the Arctic Circle.

A small town in Missouri was under siege twice in a few months due to a police shooting of a young black man, and the officer's subsequent acquittal.

Job loss and poverty is at an all-time high.

A deadly virus that everyone thought would be relegated to the distant regions of …
You can do all ten steps at once or divide each into a separate week and shopping trip. But you need to get it done as soon as possible. Keep in mind that this is only a starting point and isn't presented here as a completed list.
Please Read this Article at NaturalBlaze.com