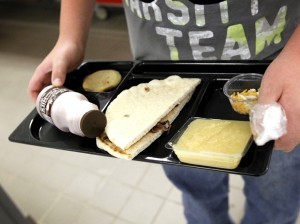 The Healthy, Hunger-Free Kids Act, enacted in December 2010, directed the U.S. Department of Agriculture (USDA) to update the nutrition standards for school meals for the first time in more than a decade, and update standards for school snacks and drinks for the first time in more than 30 years. The healthier lunch standards went into effect at the beginning of the 2012 to 2013 school year and the healthier breakfast standards started going into effect at the beginning of the 2013 to 2014 school year. By the spring of 2014, 86 percent of schools across the country were certified as serving healthier meals that met the updated nutrition standards, and thus were receiving an additional six cents per meal in federal reimbursement.1 Meals that meet the standards include more fruits, vegetables and whole grains, low-fat dairy products and fewer unhealthy sugars and fats.
In 2012, the National School Lunch Program received a $3.2-billion overhaul. The changes, which are being phased in over a three-year period and began during the 2012-2013 school year, are now appearing in lunchrooms across the US…

While there were some notable improvements, like ensuring students are offered both fruits and vegetables each day of the week and increasing focus on reducing levels of trans fats, there were also some key failures.

Among them, whole milk has been banished and only fat-free or low-fat milk varieties are now available. As naturally satiating and appealing whole fat is removed, milk becomes a watery and, some might say, highly unpalatable liquid.

School Lunch Program Trades Healthy Whole Fats for More Sugar

First let me state that I do not typically recommend drinking pasteurized whole milk, even for children. High-quality raw milk from grass-fed cows is far superior (and raw milk is always full fat).

However, if you …

In addition, in November 2013, USDA conducted additional rulemaking under the Healthy, Hunger-Free Kids Act and released a proposed rule that would make it easier for school districts to take advantage of the community eligibility option. Under this statutory requirement, schools with a disproportionately high level of poverty could offer free meals to students without requiring household applications. A final rule has not been published; however, USDA published additional interim guidance in February 2014 to help schools move forward with implementation for the 2014 to 2015 school year.
Please Read this Article at Articles.Mercola.com