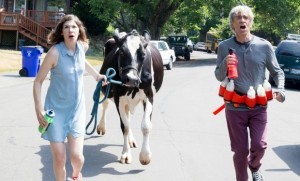 When the U.S. Centers for Disease Control or the U.S. Food and Drug Administration come out with a study having to do with raw milk, you know before even viewing the results that it's going to fan the fear flames. You also know what the bottom-line conclusion will be: ban raw milk.
So it's interesting to see how the the European Union's Food Safety Authority—Europe's equivalent to the CDC and FDA—treats one of its own studies on raw milk.
The characters on popular comedy show, Portlandia, recently experienced pure ecstasy while imbibing unpasteurized milk. They could just swear they were smarter, more fit and more fluid after milking cows and drinking from their crates of milky mason jars.

Melissa Locker, writing for Independent Film Channel describes the recent episode of Portlandia (airs Thursdays 10 pm on IFC):
In the words of Candace and Toni: If you're not outraged, you're not paying attention to the lies that the FDA is feeding you about the joys of raw milk.
This week, Brendan (Fred Armisen) and Michelle (Carrie Brownstein) were feeling lethargic, sluggish and generally under the weather until they discovered that raw milk is a miracle cure-all. A miracle that the FDA is trying to prevent you from enjoying! Check out this clip as they storm a doctor's (Ed Begley Jr.) office to spread the truth about raw milk
Coincidentally, a recent episode of Parks and Recreation featured raw milk, called "beef milk" by Pawnee's most uppity local celebrity trend-setter. When comedian Jim Gaffigan went on Conan in 2013, he ran the full gamut of alternative milk products which brought him back to cow's milk (unpasteurized was implied, "big in Europe" – we came full circle).

Of course, these depictions are laced with pretension. But it's so hard not to laugh and appreciate an important food freedom issue when it makes it to the screens. The growing love for real food and small farm freedom must be reaching a tipping point to make it to the best comedy shows.
Another intriguing point of comparison: the most recent CDC study on raw milk (discussed in a couple of recent blog posts here) found 13 outbreaks attributed to E.coli O157:H7 in the six-year period 2007-2012. That is about two per year, versus a total of two for six years in Europe (or about one every three years). So it seems as if E.coli O157:H7 is a significantly higher risk factor for illness in American raw milk than in Europe. I would guess that E.coli O157:H7 is more of a risk factor in the U.S. for most foods, likely given the dominance of factory foods.
Please Read this Article at NaturalBlaze.com