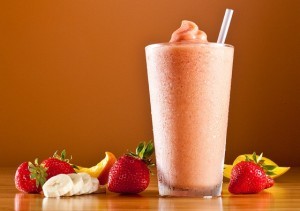 Do you use to skip breakfast in the morning because you don't have time to prepare something else besides coffee? What if I tell you that in less than 4 minutes you can prepare a really healthy and delicious meal: a matcha smoothie!
Here are 5 matcha smoothie recipes you can easily prepare in the mornings that are nourishing and energy boosters for you and your entire family. Bon appetit!
1. Energy Booster

Ingredients:

2 Frozen Bananas, sliced
4 Small Dates or 2 Large Medjool Dates, pitted
1 HEAPING Tbsp. Smooth Peanut Butter
1 Tbsp. Chia Seeds
1/2 Cup Hemp Milk, or Other Non-Dairy Milk
1/4 Cup Water, to thin down the mixture

Blend all ingredients together until smooth.

2. Strawberry Avocado Smoothie

Ingredients

1/2 frozen banana
2 cups fresh strawberries, halved
3 tbsp fresh spearmint + extra for garnish
1 1/2 cups coconut water
1/2 Haas avocado
1 pitted date (optional)
A few ice cubes

Blend together and serve.

3. Berry Green Smoothie

Ingredients

2 Bananas
1 cup frozen mixed berries
1 large handful baby spinach
1 cup filtered water

Blend together and serve.

4. Tropical Paradise Smoothie

Ingredients

1 Banana
1 cup frozen pineapple chunks
1 cup frozen mango chunks
1 cup coconut water
1-2 tbsp. hemp seeds

Blend together until smooth and serve.

5. Green Goodness Smoothie

Ingredients

1 cup frozen peaches
2 tsp. maple syrup
1 handful of baby spinach
1 tbsp. hemp seeds
1 or …
You can also mix and match these ingredients and create recipes of matcha smoothies of your own. Be original, be creative and start your tea cooking today.
Please Read this Article at NaturalBlaze.com