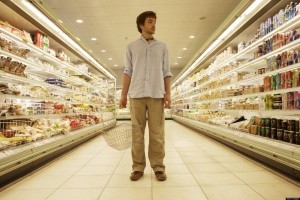 Most fresh produce is non-GMO. Only five common produce items are currently grown* commercially from GMO seed: corn, Hawaiian papaya, edamame (soybeans), zucchini and yellow summer squash. We source organic or non-GMO versions of these whenever possible. The five most prevalent GMO crops of corn, canola, soy, cotton and sugar beets end up as additives in all kinds of packaged foods as corn syrup, oil, sugar, flavoring agents, thickeners and other ingredients. Choose organic or non-GMO verified.
Should you consume them? Are they okay in moderation? Should you strictly avoid them at all times? And if so, how on earth can you manage to navigate the store without stepping into a genetically modified landmine? And if you really want to challenge yourself, how can you do that on a budget?

The anti-GMO movement is picking up steam, for a multitude of excellent reasons. My family is making continuous efforts to remove genetically modified products from our lives. If you want to learn how you can banish them too, read on!


Forget about GMO labeling.

First of all, let's face some facts here. Crony capitalism in America isn't going to allow changes that would require the labeling of genetically modified ingredients in your food. While in a perfect world, a place that requires people selling healthfully grown organic foods to jump backwards through hoops and turn a …
The retailers who started the Non-GMO Project were motivated by a simple idea. They believed that consumers in North America should have access to clearly-labeled non-GMO food and products, now and in the future. That conviction continues to guide the Non-GMO Project, as North America's only independent verification for products made according to best practices for GMO avoidance.
The verification seal indicates that the product bearing the seal has gone through our verification process. Our verification is an assurance that a product has been produced according to consensus-based best practices for GMO avoidance:
We require ongoing testing of all at-risk ingredients—any ingredient being grown commercially in GMO form must be tested prior to use in a verified product.
We use an Action Threshold of 0.9%. This is in alignment with laws in the European Union (where any product containing more than 0.9% GMO must be labeled). Absence of all GMOs is the target for all Non-GMO Project Standard compliant products. Continuous improvement practices toward achieving this goal must be part of the Participant's quality management systems.
After the test, we require rigorous traceability and segregation practices to be followed in order to ensure ingredient integrity through to the finished product.
For low-risk ingredients, we conduct a thorough review of ingredient specification sheets to determine absence of GMO risk.
Verification is maintained through an annual audit, along with onsite inspections for high-risk products.

Other products sometimes say that they do not contain GMOs. While this may be true, the Non-GMO Project Verified seal is earned through rigorous testing, and you can feel fairly confident that foods bearing this seal are free of genetically modified ingredients.

Learn about the likely suspects.

In the United States and Canada, two things shout "GMO" like no other: corn and soy. As of 2012, more than 94% of the soy and 88% of the corn in America was genetically modified.

The sad fact is, if you are buying anything processed at all, corn or soy is most likely to be an ingredient. And given the statistics above, it's almost guaranteed that the corn or soy is GMO unless it's otherwise noted. Both ingredients masquerade under many names. The lists below may seem overwhelming, but it's important to see the number of aliases that allow these products to sneak into your food.

Here's a sobering chart from the website Corn Allergens that shows many of the names under which corn lurks in your food.

Acetic acid
Alcohol
Alpha tocopherol
Artificial flavorings
Artificial sweeteners
Ascorbates
Ascorbic acid
Aspartame (Artificial sweetener)
Astaxanthin
Baking powder
Barley malt* (generally OK, but can be contaminated)
Bleached flour*
Blended sugar (sugaridextrose)
Brown sugar* (generally OK if no caramel color)
Calcium citrate
Calcium fumarate
Calcium gluconate
Calcium lactate
Calcium magnesium acetate (CMA)
Calcium stearate
Calcium stearoyl lactylate
Caramel and caramel color
Carbonmethylcellulose sodium
Cellulose microcrystalline
Cellulose, methyl
Cellulose, powdered
Cetearyl glucoside
Choline chloride
Citric acid*
Citrus cloud emulsion (CCS)
Coco glycerides (cocoglycerides)
Confectioner's sugar
Corn alcohol, corn gluten
Corn extract
Corn flour
Corn oil, corn oil margarine
Corn starch
Corn sweetener, corn sugar
Corn syrup, corn syrup solids
Corn, popcorn, cornmeal
Cornstarch, cornflour
Crosscarmellose sodium
Crystalline dextrose
Crystalline fructose
Cyclodextrin
DATUM (a dough conditioner)
Decyl glucoside
Decyl polyglucose
Dextrin
Dextrose (also found in IV solutions)
Dextrose anything (such as monohydrate or anhydrous)
d-Gluconic acid
Distilled white vinegar
Drying agent
Erythorbic acid
Erythritol
Ethanol
Ethocel 20
Ethyl acetate
Ethyl alcohol
Ethyl lactate
Ethyl maltol
Ethylcellulose
Ethylene
Fibersol-2
Flavorings*
Food starch
Fructose*
Fruit juice concentrate*
Fumaric acid
Germ/germ meal
Gluconate
Gluconic acid
Glucono delta-lactone
Gluconolactone
Glucosamine
Glucose syrup* (also found in IV solutions)
Glucose*
Glutamate
Gluten
Gluten feed/meal
Glycerides
Glycerin*
Glycerol
Golden syrup
Grits
High fructose corn syrup
Hominy
Honey*
Hydrolyzed corn
Hydrolyzed corn protein
Hydrolyzed vegetable protein
Hydroxypropyl methylcellulose
Hydroxypropyl methylcellulose pthalate (HPMCP)
Inositol
Invert syrup or sugar
Iodized salt
Lactate
Lactic acid*
Lauryl glucoside
Lecithin
Linoleic acid
Lysine
Magnesium citrate
Magnesium fumarate
Magnesium stearate
Maize
Malic acid
Malonic acid
Malt syrup from corn
Malt, malt extract
Maltitol
Maltodextrin
Maltol
Maltose
Mannitol
Methyl glucose
Methyl glucoside
Methyl gluceth
Methylcellulose
Microcrystaline cellulose
Modified cellulose gum
Modified corn starch
Modified food starch
Molasses* (corn syrup may be present; know your product)
Mono- and di- glycerides
Monosodium glutamate
MSG
Natural flavorings*
Olestra/Olean
Polenta
Polydextrose
Polylactic acid (PLA)
Polysorbates* (e.g. Polysorbate 80)
Polyvinyl acetate
Potassium citrate
Potassium fumarate
Potassium gluconate
Powdered sugar
Pregelatinized starch
Propionic acid
Propylene glycol monostearate*
Propylene glycol*
Saccharin
Salt (iodized salt)
Semolina (unless from wheat)
Simethicone
Sodium carboxymethylcellulose
Sodium citrate
Sodium erythorbate
Sodium fumarate
Sodium lactate
Sodium starch glycolate
Sodium stearoyl fumarate
Sorbate
Sorbic acid
Sorbitan* (anything)
Sorbitol
Sorghum* (not all is bad; the syrup and/or grain CAN be mixed with corn)
Splenda (Artificial sweetener)
Starch (any kind that's not specified)
Stearic acid
Stearoyls
Sucralose (Artificial sweetener)
Sucrose
Sugar* (not identified as cane or beet)
Threonine
Tocopherol (vitamin E)
Treacle (aka golden syrup)
Triethyl citrate
Unmodified starch
Vanilla, natural flavoring
Vanilla, pure or extract
Vanillin
Vegetable anything that's not specific*
Vinegar, distilled white
Vinyl acetate
Vitamin C* and Vitamin E*
Vitamins*
Xanthan gum
Xylitol
Yeast*
Zea mays
Zein

Likewise, soy is another item that wears many hats and can be difficult to avoid. Here are some of the names under which soy could be hiding in your food. (List is from About.com)

Bean curd
Bean sprouts
Bulking agent
Edamame (fresh soybeans)
Guar gum
Gum arabic
Hydrolyzed plant protein (HPP) or hydrolyzed vegetable protein (HVP)
Hydrolyzed soy protein (HSP)
Kinako
Lecithin
Miso (fermented soybean paste)
Mixed tocopherols
Mono- and di-glycerides
MSG (monosodium glutamate)
Natto
Natural flavoring
Nimame
Okara
Shoyu
Soy (albumin, cheese, fiber, grits, milk, nuts, sprouts, yogurt, ice cream, pasta)
Soy lecithin
Soy protein (concentrate, hydrolyzed, isolate)
Soy sauce
Soya
Soybean (curds, granules)
Soybean oil
Stabilizer
Tamari
Tempeh
Teriyaki sauce
Textured vegetable protein (TVP)
Thickener
Tofu (dofu, kori-dofu)
Vegetable gum, starch, shortening, or oil
Vitamin E
Yuba

As you can see, it's difficult to avoid potential GMOs if you eat anything that comes from a package.  Despite the fact that many people suffer from food allergies, these items are allowed to be included under names that make it difficult to discern what you're actually getting.  Names like "thickener", "natural flavoring", and "drying agent" do not give the label reader much of a clue.
More than 60 GMO crops that have been approved in the US are:

Corn (20 varieties)
Oilseed Rape/Canola (11 varieties)
Cotton (11 varieties)
Tomato (6 varieties)
Potato (4 varieties)
Soybean (3 varieties)
Sugar Beet (3 varieties)
Squash (2 varieties)
Cantaloupe
Rice
Flax
Raddicchio
Papaya
Alfalfa
Wheat

Fortunately, not all of these are currently on the market. Currently corn, soybeans, cotton, canola, squash, and papaya are all sold commercially.

The best possible choices have no label at all.

Bluntly put, food manufacturers are out to deceive the consumer. They know that many people are trying to avoid GMOs, but they still want you to buy their products. This is why they are adamantly against labeling the products, although they like to say it's because we, the mere mortal customers, just aren't smart enough or educated enough to comprehend in our fuzzy little brains that GMOs are "safe". So, they opt not to disclose the inclusion of genetically modified ingredients.

If you shop at the grocery store, then I have to be honest – it's nearly impossible to avoid GMOs. If every item you purchase is organic, then you can probably get through the checkout line unscathed. But these days, who can afford to push a cart full of organic grocery store food up to the register? I know that I certainly can't. Prices are sometimes triple that of a conventionally grown item. If you truly want to avoid GMOs – and by avoid I mean banish them from your dinner table and cupboards for good – you need to stop buying food with ingredients. You need to rethink where your food comes from.
Food shouldn't contain ingredients. Food should BE ingredients.  What you purchase when doing your weekly food shopping should be the basis for delicious meals.  When you no longer eat things from packages that have long lists of ingredients in them, you will begin to free yourself from the ridiculous Monopoly game that you have been playing with Big Food. 
Here are some examples:

Instead of buying a package of pasta and a jar of Alfredo sauce, make zucchini noodles and a homemade Alfredo primavera.

Instead of buying a box of flavored, sugar-y cereal for breakfast, have oatmeal (cooked from scratch – not the little packets) and top it with fruit and nuts.

Instead of a sandwich made from a loaf of processed bread and a deli meat, have a salad made from fresh greens and vegetables, and topped with a slice of chicken that you cooked yourself.

It's time to change your definition of food shopping.

It's entirely possible for many of us to completely break up with the grocery store. I grow veggies in my backyard and I purchase what I can't grow from farmers, farmer's markets, CSAs, and the local co-op. Specific staples like organic sugar and baking items come from online vendors. (I realize that these are the same items I could be purchasing at the grocery store, but I have made the personal choice to no longer do business with that industry. I try to buy direct from farms and small producers as much as possible.)

Don't limit yourself to produce, either. Be sure to look for meat and dairy products from local vendors as well! The organic free-range chicken that you get from your local farmer is well worth the additional price you'll pay. If you have a freezer, you can buy many types of meat in bulk (quarter of a cow, anyone?) I'm able to serve free range chicken, rabbit, and grass-fed beef to my family, even on a tight budget, by shopping direct from the farmers. There are few occupations where people work so hard for such a small amount of profit. Farming is a noble profession that doesn't get the respect it deserves, and I like nothing better than giving my hard-earned dollars to people who give me true nourishment.

I can hear some of you saying, "That's fine in the summer, but what am I supposed to eat in the winter, when there's nothing local that is being harvested? I'll have to go back to the grocery store."

Not necessarily. It's possible to skip the grocery stores (and the GMOs) even in the winter if you are prepared to do some food preservation when produce is at its peak. If you aren't familiar with the lost arts, check out some websites, go to a class at your county extension office, or read a book. Canning, dehydrating, root cellaring, and freezing can make your summer bounty last all through the year. I like to take extra effort when canning fruits and vegetables to make them special, so that we are excited to pop open a jar in the winter. I add vanilla and spices to pears. I toss a little bit of garlic into the jar with green beans. Carrots have a dash of cinnamon and a dollop of honey. Jams are bursting with intense fruity flavor. Relishes, chutneys, and sauces await their invitations to the table, dressing up a wintery dish with a dash of summer. Jars of chewy dehydrated fruits are ready to go into lunchboxes, and dehydrated veggies add a burst of out-of-season nutrition to soups and sauces.

Here are the top 10 things to remember when shopping for non-GMO foods.

Don't buy into the malarkey that it's impossible to avoid GMOs these days. It's entirely possible when you stop playing by the rules laid out by Big Food!

Keep these things in mind when purchasing food:

Stop looking for labels. Assume that if it isn't labeled GMO-free, that it contains GMOs.
Look for products that are USDA Certified Organic or Non-GMO Project Verified.
Avoid all corn, soy, and canola that is not specifically labeled as non-GMO.
Familiarize yourself with the abundant aliases for corn and soy.
Buy ingredients, instead of food with ingredients.
Cook from scratch.
Stop shopping at the grocery store.
Get to know your farmers personally.
Preserve food while it's in season.
Don't be wasteful. Use every single edible part to make your food dollars go further.

Do you have other ways of avoiding GMOs? Please share them in the comments section.

If they refuse to label their products, we can refuse to buy them. Money talks, and to large corporations it SHOUTS. If their bottom line begins to dwindle because people refuse to consume their products, eventually they will have to make a change.
That's exactly what happened with Dean Foods, actually. In 2009, Dean Foods switched their formula for their popular Silk Soymilk. Instead of using organic soybeans, they began purchasing conventional soybeans. As we all know, nearly all of the soy grown in the United States is genetically modified – at last report it was over 94%. So, more than likely, the soymilk that Dean Foods was putting out was GMO. When outraged customers refused to purchase the product, Dean realized that they were losing money hand over fist, and they switched back to organic soy.
Please Read this Article at NaturalBlaze.com