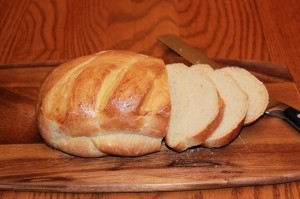 Over the last year, I've gradually moved more and more towards making my own food at home. There are several reasons for this: it tastes better, it reduces preservative intake, it's more nutritious, and it's often substantially cheaper than what you find in the store. It does take time, but once you get used to it, most food preparation doesn't take much more time than going to the store, buying it, taking it home, popping it out of the package, and following the directions.
If you've never baked your own loaf of bread before, then you've probably never smelled the wonderful odor of fresh baked bread. It fills the house and, as the days get colder and shorter, it's simply splendid. Let's get right to it.

You will need:

1 packet of active dry yeast. We recommend Rapid Rise
1 1/4 cup of lukewarm water. Heat over stove, don't use lukewarm tap
2 cups of bread flour.
1 cup of whole wheat flour
1/4 cup of mashed potato flakes
1 tablespoon of sugar
1 teaspoon of salt
3 tablespoons of olive oil

Instructions:

First, dissolve yeast in the lukewarm water in a small bowl. Allow to stand for five minutes. Stir the bread and whole wheat flower, potato flakes, salt, and sugar in another large bowl.

Next, place your dissolved yeast mix and the olive oil in the bowl of your electric mixer. Attach the paddle to the mixer, stir …
That's all you need for homemade bread, period. There are some neat things you can do with added ingredients, which I'll talk about later, but all you need is that stuff. Nothing complicated or "secret" or confusing at all.
Please Read this Article at NaturalBlaze.com