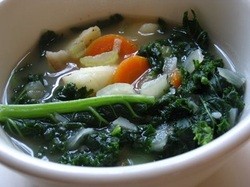 Kale is an excellent source of anti-inflammatory vitamin K, immune-supporitve vitamin C and vitamin A (in the form of carotenoid phytonutrients), and enzyme-activing manganese. It is also a very good source of heart-healthy fiber, vitamin B6, and potassium, and bone-healthy copper and calcium. Additionally, it is a good source of energy-producing iron, vitamin B1, vitamin B2, vitamin B3, and phosphorus; heart-healthy magnesium, vitamin E, omega-3 fatty acids, and folate; and muscular-system supporting protein.
Eating kale and other cruciferous vegetables two to three times a week or, even better, four to five times a week, is an easy way to significantly boost your health. Just one cup of kale will flood your body with disease-fighting vitamins K, A, and C, along with respectable amounts of manganese, copper, B vitamins, fiber, calcium, and potassium.

With each serving of kale, you'll also find more than 45 unique flavonoids, which have both antioxidant and anti-inflammatory benefits. In terms of green leafy vegetables, you really can't go wrong… but kale is definitely worthy of its reputation as "king of veggies."

Super Energy Kale Soup

Ingredients:

1 medium onion, chopped
4 cloves garlic, chopped
5 cups chicken or bone broth
1 medium carrot, diced into 1/4-inch cubes (about 1 cup)
1 cup diced celery
2 red potatoes, diced into 1/2-inch cubes
3 cups kale, rinsed, stems removed and chopped very fine
2 tsp dried thyme
2 tsp …

Kale is now recognized as providing comprehensive support for the body's detoxification system. New research has shown that the ITCs made from kale's glucosinolates can help regulate detox at a genetic level. Researchers can now identify over 45 different flavonoids in kale. With kaempferol and quercetin heading the list, kale's flavonoids combine both antioxidant and anti-inflammatory benefits in way that gives kale a leading dietary role with respect to avoidance of chronic inflammation and oxidative stress.
Please Read this Article at Articles.Mercola.com