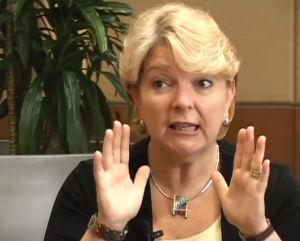 Dr. Sherri J. Tenpenny, is the founder of Tenpenny Integrative Medical Center, a clinic first established in Strongsville, Ohio in 1996 under the name of OsteoMed II. Her goal is to provide the best of integrative medicine in Cleveland, Ohio.
Dr. Tenpenny is a graduate of the University of Toledo in Toledo, Ohio and received her training as an osteopathic medical doctor at Kirksville College of Osteopathic Medicine in Kirksville, Missouri. Dr. Tenpenny is Board Certified in Emergency Medicine and Osteopathic Manipulative Medicine. She has undertaken many advanced courses in alternative medicine, including acupuncture and complex homeopathy.
In this scenario – a doctor, a pick-up artist and Frank Zappa try to walk into Australia. But they can't and it's not just because one of them's dead.

Last week, we reported on the pro-vaccine campaign to ban Dr. Sherri Tenpenny from entering Australia on a speaking tour. She has spoke of the damaging effects of vaccines. For that, she was catapulted into international and Internet infamy. The Australian Today Show segment showing the one time she was allowed to share her side of the story was removed from YouTube.

Since then, five business venues buckled under the pressure and fled from hosting her, thereby effectively cancelling some of her talks. Immigration Minister Peter Dutton is currently considering the matter….

Last year, the Australian Vaccination-Skeptics Network was literally forced to insert the word "skeptics" in to their name. They also lost their charity status …
Dr. Sherri J. Tenpenny warns about the perils of vaccination in this excellent interview. Dr. Sherri Tenpenny is an osteopathic medical doctor who incorporates integrative medicine in her practice for treating allergies, childhood illnesses and women's health issues. She is also one of the nation's most knowledgeable and outspoken physicians regarding the adverse impact of vaccines on public health and their medical risks in children.
Please Read this Article at NaturalBlaze.com